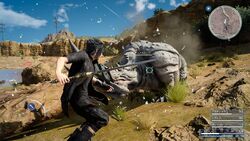 Noctis is the player character in Final Fantasy XV. He can use all weapon types, and the Combat Ascension Spheres exclusively focus on his development. His build focuses on all forms of offense, but his aspects of defense of vitality and spirit are lacking.
While on offense Noctis chains attacks automatically by holding the attack button. Manually inputting presses, and depending on the direction of the analog held and the weapon in hand, allows him to perform different combos. While on defense he can dodge roll (tapping the defense button), phase through attacks (by holding the defense button), and block certain attacks (by correctly timing the defense when the button prompt appears), allowing him to counter with a parry and follow through with an offensive opening or a link-strike with team mates. Link-strikes and blindside links can trigger when Noctis is wielding a compatible weapon type, and Noctis is the only one who can invoke linked attacks in the main game.
| Level | HP | MP | Strength | Vitality | Magic | Spirit |
| --- | --- | --- | --- | --- | --- | --- |
| 1 | 453 | 80 | 19 | 22 | 68 | 40 |
| 10 | 552 | 103 | 27 | 27 | 122 | 45 |
Abilities
Edit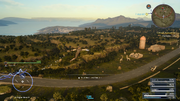 A majority of the Ascension grid is focused on Noctis's development, and progressing will further upgrade his capabilities and unlock new abilities and features, from improving MP costs, to warping enhancements, to abilities helping cover weaknesses and reinforce any existing ones, from the HP recovery rebound Impervious to abilities that let him sprint longer and recover faster while in cover. If he learns the Airstep abilities in the Ascension grid, Noctis can continually stay airborne when attacking but this quickly depletes his MP.
Noctis can warp forward, at the cost of 30 MP, allowing him to instantly cover long distances and reach great heights in battle by tossing his weapons for them to act as a relay point for him to manifest at. Targeting an enemy with the action allows him to warp-strike, performing an accelerated stabbing attack with a greater deal of damage depending on the distance covered to the target. Running out of MP will place Noctis in Stasis, where he will be stuck at 0 MP for a period of time. Point-warping, which doesn't cost MP, can still be performed in Stasis and with any equipped weapon. It him to get away from the epicenters of battles, fully replenish his MP, grants him sanctuary to recover HP, and gives players a chance to assess the battle from afar.
Through the powers of the Crystal, Noctis is responsible for providing the magic of the party. Everyday medicinal items—from tinctures, folk cures, and first aid articles, to even drinks the party has at their disposal—are the other catalyst responsible for enacting the special effects that otherwise are not possible by anyone else. His powers allows the team to draw out elemental energy points used in the craft of Elemancy.
Further magical powers unique to him are the spells usable by wielding the Ring of the Lucii, including a counterattack-specialized Holy, gradual mortality inducing Death, and the void-summoning Alterna. Attaining the graces of Astrals will allow their powerful presence to be summoned in various situations.
Although magic can be equipped to all team members, it is recommended for Noctis to be the designated caster, as relying on the AI is a matter of chance, and equipped spells have a shared cooldown. Noctis also has attires that specifically boost his Magic.
Armiger, Noctis's "Limit Break", summons a barrier of any collected royal arms to surround him, and confers onto him a state of super speed, high mobility, greater chaining ability, heightened endurance to weaker enemy attacks, as well as levitation. Noctis enters a state of unlimited MP, a higher HP regeneration rate, and no HP cost for any Royal Arms used. It is meant for tight binds, as team-up actions, such as Link Strikes and Backside Strikes, are nearly impossible to achieve in this state. Armiger is upgraded with every royal arm the player finds, and every node the Armiger Ascension Sphere unlocks.
Armiger Unleashed is a new Armiger mode available in the Windows and Royal Editions after the player acquires all royal arms and inspects the statue of the Founder King in Keycatrich. It lets Noctis perform various combos and lets him use Techniques during it.
Character swap
Edit
Upon unlocking the ability to swap to the other party members in the Ascension Grid, the player can freely switch back and forth for the duration of the battle. The game will switch back to Noctis as a battle ends. The player cannot switch to someone that is incapacitated or too far away, or when Noctis is in Danger or being targeted by a counterable attack.
Noctis will freely attack with his equipped weapons when controlled by the AI. He does not consume MP, nor HP when using royal weapons. If he is confused and tries to warp, he will simply shoot up and fall helplessly to the ground.
No matter who is being controlled as the leader, the game will end if they are KO'd and not healed, and they will be revived by Carbuncle on Easy mode.
Equipment
Edit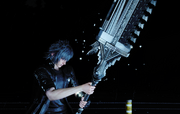 Noctis can use any weapon type and can wield multiple different weapons in a single battle. The maximum he can carry on hand in action is four weapons assigned to any direction on the D-pad, but they can be changed an time from the menu, and are not actively used by him on hand. Swords and Royal Arms are exclusive to Noctis, the former being basic quick-striking one-handed swords, and the latter being weapons exclusive to the Lucian royal family. Royal Arms are uniquely powerful at the cost of HP per landed hit.
Some accessories are exclusive to Noctis. These are: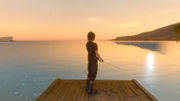 Noctis is the team's angler for the game's fishing minigame. Fishing requires the purchase of lures and good equipment. Fishing lets the player catch various fish from the various fishing spots in the world, and some of the fish unlock new recipes and can be cooked at camp by Ignis. The absolute favorites of the team are among these recipes, such from Grilled Wild Baramundi enjoyed by Noctis and Skewered Wild Trout enjoyed by Gladiolus. Some recipes earned from fishing provide extremely helpful effects, from Tide Grouper Carpaccio conferring Deathproof to Golden Tail Soup boasting the highest HP Regen effect and the only dish allowing for the critical hit dealing Clairvoyant effect.
Progression on his skill levels makes fishing easier from reinforcing the durability of the line to ensuring discounts at fishing shops, and is improved by constantly making catches. Fishing is also a source of AP, especially if the Sportfisher ability is unlocked.
Level 1: No Bonus
Level 2: Fishing line wears down 25% slower when fish struggle
Level 3: Tackle shops offer a 10% discount
Level 4: Chances of hooking a fish increased by 25%
Level 5: Catch fish up 31.5 inches
Level 6: Tackle shops offer a 30% discount
Level 7: Fishing line wears down 50% slower when fish struggle
Level 8: Chances of hooking a fish increased by 50%
Level 9: Tackle shops offer a 50% discount
Level 10: Catch fish up to 59 inches
Noctis is the fussiest to feed favorite dishes to. Many of the foods he favors are reminiscent of home-cooked meals and comfort foods; due to his dislike of vegetables, he prefers prepared meat dishes and recipes that mask the taste of vegetables well. He often enjoys recipes that can be only made by hunting down monsters, spending a considerable sum of money at markets, making leaps of progress in sidequests, and investing in fishing. Noctis likes hot sandwiches, sauteed freshwater fish, donburi, and decked out fruit-seasoned cakes. His favorites will come along as the player goes through the game at their pace, and are the least complicated in terms of ingredients.
In the 1.00 version of the game, when Noctis runs out of stamina when sprinting, he simply jogs slower. It was patched so that he momentarily stops to catch his breath when this happens, but the player can replenish the stamina gauge with a correct button prompt and have foods and an attire that give infinite stamina.