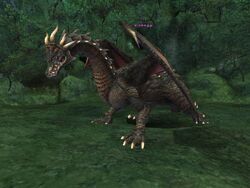 Nidhoggs (ニーズヘッグ, Nīzuheggu?) also called Heg, are a recurring enemy in the Final Fantasy series since their debut in Final Fantasy VII. They are Dragon-like creatures, usually Drake-related enemies.
Appearances
[
]
The Heg is an enemy encountered inside the Cave of the Gi and during the fifth round of the Battle Square during the time Tiny Bronco is available.

The Nidhogg appears as an enemy found inside the Cavern of the Stolen Fayth and on Mt. Gagazet.

The Nidhogg is a Mark. It is the fifth mark to be listed in the Clan Primer and it found in the Transitway 1 area of the Lhusu Mines. Unlike its other appearances, here it is a serpent enemy.

Nidhogg is a great wyrmking that lives in Dravania, first mentioned in the backstory of the city-state of Ishgard during the Dragoon job quests. In Heavensward, he is one of the primary antagonists, and appears as a boss fight in the Aery.

The fangs of this powerful drake are harder than any metal worked by hand of man.

Description
The Nidhogg appears as an enemy.
Nidhogg from Final Fantasy X appears as an enemy.

This dragon may be slow, but its fire breath will incinerate you and all you hold dear.

Description
The Nidhogg is an enemy encountered inside the Zanarkand Ruins. It uses Breath and drops the Burning Fists.

Nidhogg appears as a card in Triple Triad in the version playable via Final Fantasy Portal App.

Gallery
[
]
Etymology
[
]
[view · edit · purge]The Níðhöggr (meaning "malice striker" in Old Norse, commonly anglicized as "Nidhogg") is a dragon in Norse mythology who would eat the roots of Yggdrasil, the world tree.