The New York Barrier City is a notable and primary location in the movie Final Fantasy: The Spirits Within.
New York City was one of the most populous cities in the United States of America. A leading global city, New York exerted a powerful influence over global commerce, finance, media, culture, art, fashion, research, education, and entertainment. As host of the United Nations Headquarters, it was also an important center for international affairs.
Come 2048, following the Leonid Meteor landing in 2031 and the completion of the first Barrier City in Houston in 2047, a barrier city was constructed over the skyscrapers' upper floors of lower Manhattan in order to protect New York citizens from Phantom attack. While the city within the barrier continued to grow, the city outside became a Wasteland known as Old New York; filled with empty skeletons and debris from previous Phantom attacks and human chaos.
Due to General Douglas Hein's blinded determination to convince the council to authorize the use of the Zeus Cannon, which he believed would save the world from the Phantom threat, Phantoms found their way into the city and destroyed it from within.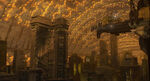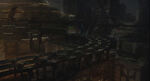 United Nations Council
Still host to the United Nations Security Council, the barrier city hosts the council's meetings with the USMF personnel.
USMF Headquarters
The military headquarters of the United States Military Forces where the military minds conduct their strategy to defeat the Phantom menace.

Bio Etherics Research Center
This building is the central location where Dr. Sid, along with his fellow scientists, conducts his research in regard to the Bio Etherium.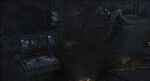 ePod Building
The ePod Building is a docking pad for Pendulum Escape Pods. There are various ePod Buildings scattered throughout the New York Barrier City.

Barrier Control Center
Building responsible for delegating the flow of Bio-etheric energy into the city's barrier.

Military Hangar
Reserved for United States Military Force vehicles, located at the southernmost point of the city.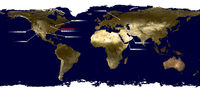 The New York Barrier City is located on a natural harbor on the northeastern Atlantic coast, over lower Manhattan.

New York is Barrier City #42.
The twin towers of the World Trade Center do not appear in any of the New York City shots. Two months after the film was released, the towers were destroyed in the terrorist attacks of September 11, 2001.
The Gondola Sequence in the film was one of the most difficult to light because it is one of the few shots in the movie where the lighting environment changes over time. As the Gondola gets higher up the rail, it gets closer to the barrier, so the yellow-orange light intensifies.
As a reference for the Gondola interiors, artists went to a local shipyard and photographed the interiors of large cranes used to load and unload cargo ships.
Architects and engineers who had experience designing airports and bus stations were on staff to help the film's artists accurately portray such details as pedestrian traffic and station layout.