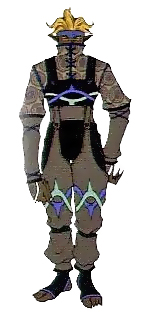 Nav Guado (ナブ=グアド, Nabu-Guado?), known as Navara Guado (ナバラ=グアド, Nabara-Guado?) in the BradyGames guide, is a blitzball player for the Guado Glories in Final Fantasy X. His AT rises decently well during the late stages, and his SP also progresses well; in the beginning it is slightly below average at 57, but it rises greatly in late levels.
At level 99, Nav Guado is the second best defender. He boasts the highest BL stat in the game, and if coupled with Ropp forms one of the most impenetrable defensive combinations in all of Spira.
According to Pah Guado, Nav thinks very highly of himself and it's possible he superseded Giera Guado as captain of the Glories between the point of the Luca tournament and when the party reaches Guadosalam.
Stats
[
]
Location
Guadosalam (running around)
Key Techniques
Drain Tackle
Nap Tackle 2
Super Goalie
Stats
[
]
| LV | 1 | 5 | 10 | 15 | 20 | 25 | 30 | 35 | 40 | 45 | 50 | 60 | 70 | 80 | 90 | 99 |
| --- | --- | --- | --- | --- | --- | --- | --- | --- | --- | --- | --- | --- | --- | --- | --- | --- |
| HP | 90 | 221 | 404 | 611 | 840 | 1,091 | 1,365 | 1,661 | 1,990 | 2,321 | 2,665 | 3,480 | 4,365 | 5,340 | 6,405 | 7,440 |
| SP | 57 | 57 | 57 | 57 | 58 | 58 | 59 | 60 | 61 | 62 | 64 | 67 | 70 | 74 | 79 | 84 |
| EN | 7 | 7 | 7 | 8 | 9 | 10 | 12 | 14 | 16 | 19 | 22 | 28 | 36 | 45 | 55 | 65 |
| AT | 5 | 6 | 7 | 8 | 10 | 11 | 13 | 15 | 17 | 20 | 22 | 27 | 33 | 40 | 47 | 54 |
| PA | 16 | 20 | 24 | 28 | 32 | 36 | 39 | 42 | 45 | 48 | 51 | 55 | 59 | 62 | 64 | 65 |
| BL | 14 | 14 | 14 | 15 | 16 | 18 | 20 | 22 | 25 | 28 | 31 | 39 | 48 | 58 | 70 | 82 |
| SH | 4 | 5 | 7 | 8 | 10 | 11 | 13 | 14 | 16 | 17 | 19 | 22 | 25 | 28 | 31 | 33 |
| CA | 1 | 1 | 1 | 1 | 1 | 2 | 2 | 2 | 3 | 3 | 4 | 5 | 7 | 9 | 10 | 12 |
See also
[
]