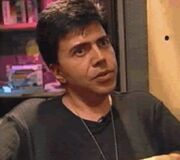 Nasir Gebelli (Persian: ناصر جبلی), born 1957 and usually credited simply as Nasir, is a video game designer, programmer, and former contracted programmer of Square.
Born in Iran, Gebelli moved to the United States to study computer science. Gebelli attained notoriety for his skills in game design during the Apple II era with several games released for the computer. Working with companies such as Broderbund and Sirius Software.
He later founded his own company, Gebelli Software, which was forced to close its doors after the video game crash of 1983.
With the release of the Nintendo Entertainment System a few years later, Gebelli returned to Los Angeles, California where he spoke to his friend and was introduced to the NES. Having been put in contact with a woman who was a marketing representative of Squaresoft, he met Masafumi Miyamoto who expressed great interest in working with Gebelli - promising him a place to live in Japan and a work VISA for the country if he would come to Japan and consider working with Squaresoft.
He then travelled to Japan and worked with the Nintendo Famicom hardware for a month, getting to know the hardware, before agreeing to a contract with Squaresoft. While there, Squaresoft's employees spoke to Nasir about his previous work on Apple - not realising it was his own games, asked him if they knew of his work and were in amazement when they realised they were working with someone who's work they idolised.
Gebelli served as programmer on the very first Final Fantasy, and would return for the series' following two NES games. After completing work on Secret of Mana a few years later, Gebelli would retire from Square and return to his home in California to live off the royalties he had amassed from his earlier work.
During development of Final Fantasy II - Gebelli's Japanese work VISA had expired. Square relied on Gebelli so heavily they moved their entire development team to Sacramento, California to continue work on the project.
Gebelli has since not returned to the industry - expressing interest in the late 1990's in Silicon Graphics and movies, seeking his next inspiration.
Gebelli has been interviewed twice in history by John Romero in a 1998 ION STORM Apple II runion party and once in a 3 hour long 2017 Apple Tiimewarp podcast where Gebelli and Romero discuss his time at Squaresoft and the history of the Apple II computer.
Works in the series
[
]
Gallery
[
]
External links
[
]