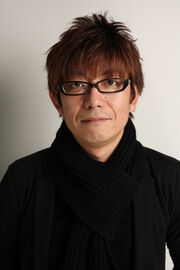 Naoki Yoshida (吉田直樹, Yoshida Naoki?), referred to by friends and fans alike as Yoshi-P, is a game developer and director who joined Square Enix in 2004, working mostly with the Dragon Quest Monster Battle Road games. He is very known for his involvement on the successful relaunch of Final Fantasy XIV.
After the poor reception received by the original version, he was appointed as the new producer and director for the game, due to his track record as a talented game designer and hardcore MMO player.[1]
He's been known as being very open to the players about his plans, often posting on the official forums late in the nights. He has admitted to sometimes getting sick due to his tight work schedule, and becoming addicted to coffee for the same reason.
He is currently an executive officer, a member of the board of directors, and the vice president of Creative Business Unit III. He was also the division executive of Business Division 5.
There have appeared three different characters modeled after Naoki Yoshida in Final Fantasy XIV.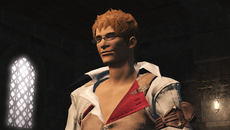 The Wandering Minstrel character was introduced on the original version of the game after Yoshida's announcement as the game's new director. In the A Realm Reborn relauch, players can talk to this character to unlock hardcore content such as Extreme trials and Savage or Ultimate raids. In Shadowbringers, this role is covered by the Minstreling Wanderer, unlocking some of the new hardcore content from 5.0 onwards.
Along with the Wandering Minstrel, Naoki Yoshida himself makes special appearances during The Rising events since the 2015's edition. Here, Yoshida greets the player in dream visions.
This is a world that exists outside your reality. Could it be a dream? A flight of fancy conjured by your weary mind? Perhaps...or perhaps not.

Naoki Yoshida when showing himself to the adventurer.
Images
Artworks
In-game
He has stated that his favorite Final Fantasy games are Final Fantasy III and Final Fantasy VII.
Yoshida was also a hardcore player of Dark Age of Camelot, and mentioned in an interview that Mythic Entertainment even heard about his character.
Before joining Square Enix, Yoshida worked on some Hudson Soft games such as the Bomberman and Tengai Makyo series.
On April 1, 2014, an April's Fools event took place on Final Fantasy XIV official forums where all the forum usernames became "Naoki Yoshida" and also had Yoshida's avatars instead of avatars of their own in-game characters.
During E3 2016, Yoshida visited various servers on the character "Eee Yoshida", classed as a Level 60 Black Mage. His appearance and glamor matched the Wandering Minstrel aside from weapon and Jewelry.
Naoki Yoshida expressed his approval for Nael van Darnus, Alphinaud Leveilleur, and Zenos yae Galvus to appear in Dissidia Final Fantasy NT. Eventually, Zenos was included in the mentioned game, while Alphinaud did in Dissidia Opera Omnia.
Community content is available under
CC-BY-SA
unless otherwise noted.