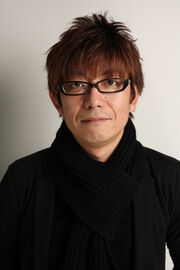 Naoki Yoshida (吉田 直樹, Yoshida Naoki?), known also by the moniker Yoshi-P, is a game developer and director who joined Square Enix in 2005, working mostly with the Dragon Quest Monster Battle Road games. He is best known for his involvement in the successful relaunch of Final Fantasy XIV.
After the poor reception of the original version of Final Fantasy XIV, he was appointed as the new producer and director for the game, due to his track record as a talented game designer and hardcore MMO player.[1]
He is currently an executive officer, a member of the board of directors, and the vice president of Creative Business Unit III, after serving as division executive of Business Division 5.
Works in the series
[
]
In-game appearances
[
]
Three characters modeled after Naoki Yoshida have appeared in Final Fantasy XIV.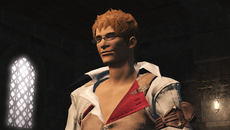 The Wandering Minstrel was introduced on the original version of the game after Yoshida's announcement as the new director. In A Realm Reborn, the relaunched version of the game, players can talk to this character to unlock high difficulty content, such as Extreme trials and Savage or Ultimate raids. In Final Fantasy XIV: Shadowbringers, this role is covered by the Minstreling Wanderer, unlocking some of the new high difficulty content introduced in the 5.X revisions.
Along with the Wandering Minstrel, Naoki Yoshida himself makes special appearances during The Rising events since the 2015's edition. Here, Yoshida greets the player in dream visions.
This is a world that exists outside your reality. Could it be a dream? A flight of fancy conjured by your weary mind? Perhaps...or perhaps not.

Naoki Yoshida when showing himself to the adventurer.
Gallery
[
]
Images
Artworks
In-game
References
[
]