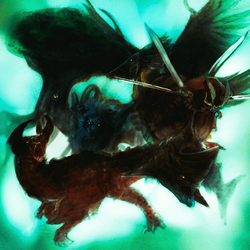 The Naakuals (ナークアル, Nākuaru?) are the seven most bloodthirsty hellions that reign over the Ulbuka wilds in Final Fantasy XI: Seekers of Adoulin.
Fiercely territorial and short of temper, they have little compassion for pioneers who try to develop these primordial lands. As the Naakuals possess powers greater than many adventurers can even fathom, it stands to reason that the vast majority of layfolk dare not approach them. Even the most foolhardy or valiant of pioneers have yet to lay eyes on all seven.
Six of the seven Naakuals may be found protecting the wilds of East Ulbuka, with each Naakual specializing in an element and holding dominion over a specific type of monster. These Naakuals may be found in Wildskeeper Reives.
During the time of the founder king, August Adoulin had fought with the Naakuals and subjugated them. He later tasked six of the Naakuals (the ones found in Wildskeeper Reives) to guard the entrances to Ra'Kaznar.
Other appearances
[
]
Most Naakuals appear in Final Fantasy Trading Card Game. The only one not represented on a card is Kumhau.
The Naakuals appear as Triple Triad cards.
Gallery
[
]