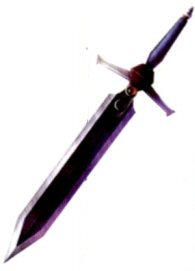 Saber made of processed mythril ore.
Mythril Saber (ミスリルセイバー, Misuriru Seibā?) is a recurring sword in the series. It is part of the mythril equipment set.
Appearances
Edit
Mythril Saber is the second weakest weapon for Cloud, providing 23 Attack, 98 Atk%, 4 Magic, as well one unlinked materia slot and one linked materia slot at normal growth. It can be bought for 1,000 gil at Kalm and Junon (before obtaining the Highwind).
Mythril Saber is a low-ranked saber that provides 32 Attack, +1 Jump, and teaches Blue Combo to Blue Mages for 100 AP.

This article or section is a stub about equipment in Final Fantasy Tactics Advance. You can help the Final Fantasy Wiki by expanding it.
Mythril Saber is a weapon for Queen. It provides 32 Attack Power and +10 to all Magic. It is bought from Amiter for 9,000 gil.

This article or section is a stub about equipment in Final Fantasy Airborne Brigade. You can help the Final Fantasy Wiki by expanding it.
Weapon
Category
Level
Attack
Magic
Mind
Mythril Saber (VII)
(

Mithril Saber (VII)

)

Swords
1
20
0
0
10
35
0
0
20
50
0
0
25
58
0
0
Additional stats: Accuracy +89
A great sword made of precious mythril. Its width and length do not differ from that of any other great sword, but the mythril that composes it makes this sword incredibly light. Although swinging it requires as much strength as handling a one-handed sword, a great deal of expertise is required to become accustomed to its reach. Thus, the mythril saber is best left for those veterans who know how to counterbalance its unique characteristics.
—Description
Mythril Saber is a Great Sword obtained by buying it for 4,500 gil at Underworld Gaberada, by crafting it using 900 gil, x16 Mythril Ores, and x1 Broken Blade, by completing the quest Invasion Afoot!, from the Final Fantasy III event, The Crystal Tower, and from a Premium Bundle. It provides 45 ATK.
Etymology
Edit
[view · edit · purge]The word "mythril" or "mithril" is a metal found in many fantasy worlds. It was originally introduced by the fantasy writings of J. R. R. Tolkien, being present in his Middle-earth. It resembles silver but is stronger than steel, and much lighter in weight than either. The author first wrote of it in The Lord of the Rings, and it is retrospectively mentioned in the third, revised edition of The Hobbit in 1966. In the first 1937 edition, the mail shirt given to Bilbo is described as being made of "silvered steel". The name mithril comes from two words in Sindarin—mith, meaning "grey" or "mist", and ril meaning "glitter".
Community content is available under
CC-BY-SA
unless otherwise noted.