Mysidia (ミシディア, Mishidia?) is a recurring town or village of mages in the Final Fantasy series. The Mysidian Rabbit takes its name from the location. Throughout its appearances, it has been shown with an Arabic form of architecture.
Appearances
[
]
Mysidia is a town founded and governed by Wizards. It features a great store of magic tomes and a bookshelf can be found in an abandoned house, holding a lot of information about the Key Terms learned in Final Fantasy II. It is the hometown of Minwu, and is visited upon Firion's quest to obtain Ultima Tome.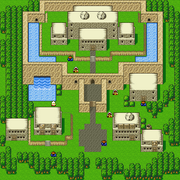 Mysidia is a town of wizards founded by the great sage Minwu, as reference to its Final Fantasy II appearance. Cecil Harvey travels to Mysidia early in the game in order to steal the town's crystal, as an order of the King of Baron. It is here that the events of Final Fantasy IV begin.
The village of Mysidia appears in this game. Its map design is based on Final Fantasy IV map design of Mysidia.
The village of Mysidia appears in this game during the time of BC 0002. It is inhabited by White Mages and Black Mages.
Mysidia is where the party first meets the White Magician, and is located near the Floating Gardens course.
Known as the Kingdom of Magic, Mysidia is where Shogo and his companions travel to in their quest to revive Yuko.
Other media
[
]
One of the servers of Final Fantasy XIV is named Mysidia.
A "Mysidian Woodland" is listed as a possible answer for a Brain Blast question in Final Fantasy XIII-2.
Melodic Death Metal band, Mysidia, takes their name from the town.
Gallery
[
]