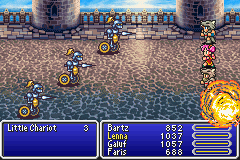 Causes Heat to the enemy.

Final Fantasy IX description
Mustard Bomb (マスタードボム, Masutādo Bomu?) is a recurring ability in the Final Fantasy series.
Appearances
Edit
Mustard Bomb is an enemy ability used by Little Chariot, Mecha Head, Prototype, and the superbosses Omega and Omega Mk.II. It inflicts heavy non-elemental damage as well as the Sap status to one character. The player may utilize this ability by catching and releasing a Gobbledygook.
Mustard Bomb is Blue Magic learnable by Quina. The spell inflicts the Heat status which causes the target to instantly die after taking an additional action. It can be learned by eating a Wraith with red candle, Bomb, Red Vepal, Grenade, or Maliris, and costs 10 MP to cast. It has an accuracy value of 30%. It can't be reflected and works with Return Magic. The Mustard Bomb is also used by the Soulcage and Drakan.
Etymology
Edit
[view · edit · purge]The sulfur mustard, commonly known as mustard gas, is a class of related cytotoxic and vesicant chemical warfare agents with the ability to form large blisters on the exposed skin and in the lungs. When used in impure form, such as warfare agents, they are usually yellow-brown in color and have an odor resembling mustard plants, garlic, or horseradish.
Mustard agents are regulated under the 1993 Chemical Weapons Convention (CWC). Three classes of chemicals are monitored under this Convention, with sulfur and nitrogen mustard grouped in Schedule 1, as substances with no use other than in chemical warfare. Mustard agents could be deployed on the battlefield by means of artillery shells, aerial bombs, rockets, or by spraying from warplanes.
Community content is available under
CC-BY-SA
unless otherwise noted.