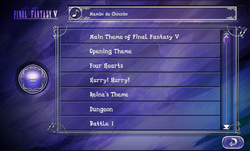 The Music Player is unlocked upon defeating the final boss in Final Fantasy V Advance and mobile/Steam versions.
Track listing
[
]
Opening Theme
Four Hearts
Hurry! Hurry!
Dungeon
Requiem
Pirates Ahoy
Town Theme
Good Night
Sealed Away
Cursed Lands
Deception
Harvest
To the North Mountain
Close Call
Spreading Grand Wings
Royal Palace
Fire Ship
Run!
Run! (Introless Version)
Library of Ancients
Reminiscence
Musica Machina
The Day Will Come
What?
The Airship
X-Death's Castle
The Dawn Warriors
Unknown Lands
Moogles' Theme
The Castle of Dawn
Beyond the Deep Blue Sea
Tycoon Waltz
Boko's Theme
Sealed Book
Slumber of Ancient Earth
Prelude to the Void
In Search of Light
The Decisive Battle
The Silent Beyond
Fanfare 1
Fanfare 2
I'm a Dancer
Piano Lesson 1
Piano Lesson 2
Piano Lesson 3
Piano Lesson 4
Piano Lesson 5
Piano Lesson 6
Piano Lesson 7
Piano Lesson 8
Notes
[
]
Lenna's and Exdeath's names appear with their Japanese spellings in the Music Player menu in the English version of the game, and are not consistent with the rest of the game.
See also
[
]