Gagazet is Ronso land, sacred mountain of Yevon. The mountain will not bear the footsteps of infidels!

Kelk
Mt. Gagazet is a location in Final Fantasy X and Final Fantasy X-2. It is the home of the Ronso and gateway to the Holy City of Zanarkand in the world of Spira.
The snow-covered, towering Mt. Gagazet is considered sacred land. Before the Eternal Calm only summoners and their guardians were permitted to pass beyond the mountain gate as the final test of the summoner's resolve before entering the Zanarkand Ruins.
Story
[
]
Locations
[
]
Mountain Trails
Gagazet Summit
Fayth Scar
Secret Areas
[
]
Floating Ruins (Final Fantasy X-2)
The Floating Ruins are situated at the peak of Mt. Gagazet. The peak used to be perpetually shrouded in fog, but after the Fayth Scar became dormant the fog lifted revealing the ruins at the top.
Shops
[
]
Final Fantasy X

[

]
Mountain Gate
[
]
Wantz - Mountain Trail

[

]
Quests
[
]
Final Fantasy X

[

]
Meeting Wantz
[
]
The appearance of Wantz on Mt. Gagazet is missable, and if the player does not speak to him on their first visit he will not appear in Macalania to sell the four-slotted equipment. After talking to Wantz on Mt. Gagazet, he will be found at the entrance to Macalania Woods from the Thunder Plains (Macalania Woods - South), after obtaining the Fahrenheit and completing the mandatory visit to Bevelle's Highbridge.
Target minigame
[
]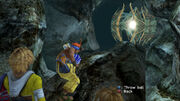 Wakka must hit a target with his blitzball to open a new path within the caves.
Button minigame
[
]
Tidus, Rikku and Wakka must swim into three buttons corresponding to their Sphere Grid color scheme—blue for Tidus, green for Rikku and orange for Wakka—to open the path to the Zanarkand Ruins.
Dark Anima
[
]
In the International, PAL and HD Remaster versions, Dark Anima can be fought at the entrance after the player has control of the airship. Dark Anima will appear after completing the Target minigame again. This is available after viewing the campfire scene at start of Zanarkand Ruins.
Each failed attempt triggers a battle composed of all fiends found in the Mountain Cave in a strict order, starting with Bandersnatch's group, finishing with Behemoth, and then back to Bandersnatch. The player can exploit this by failing repeatedly to capture the enemies or to receive gil, items, and experience.
Final Fantasy X-2

[

]
Conversation with Ronso
[
]
In Chapters 1 and 2, when the player talks to certain Ronso and a choice window pops up, choosing 'correct' answers will affect the optional boss battle with Garik and his Ronso Youths in Chapter 3. Choosing the correct answer when talking to Kimahri in Chapter 2 will also grant a scene in which he gives the Gullwings the Trainer dressphere in Chapter 3.
Question
Response
Chapter 1
"Ronso youth grown horns of hatred for Guado."
You have to learn to deal with these things!
"Must ask High Summoner Yuna: Find Lian and Ayde."
Leave it to the Gullwings!
"Garik know Yuna save Spira, but Ronso not saved yet."
We'll take care of Lian and Ayde.
"Many Ronso lost lives in battle to defend High Summoner Yuna."
I will never forget their sacrifice.
"Guado leave Guadosalam. Guado plan dark schemes!"
I'm sure you're right.
"Ronso grief deeper than mountain snow."
I can imagine how you must feel...
"Never forgive Seymour, never forgive Guado!"
I wouldn't forgive them either.
"Change will come to Ronso, too."
A change for the better, I hope.
Chapter 2
"Kimahri must stop fight. But Kimahri not wise enough."
You have to figure this out on your own.
"Worry is great burden on Elder's shoulders."
He does seem very tired.
"Garik avenge murdered Ronso."
What if the Guado retaliate?
"Guado is source of much chaos!"
Maybe the Guado really are to blame.
"Guado must die for Ronso future!"
And what of the Guado?
"Fight Guado!"
Please, try to think about it some more.
"Guado will escape us!"
Then... there won't be anyone left to fight.
"Sphere hunters are problem."
They should take better care of the mountain.
Chocobo treasures
[
]
Sending a chocobo to Mt. Gagazet to look for treasures finds the following items (depending on the chocobo's level):
| Level | Treasure |
| --- | --- |
| 1 | Antarctic Wind, Antarctic Wind x2, Antarctic Wind x3, Antarctic Wind x4 |
| 2 | Arctic Wind, Ice Gem, White Ring, Snow Ring |
| 3 | Arctic Wind x2, Ice Gem x2, Icy Gleam, Sublimator |
| 4 | Arctic Wind x3, Ice Gem x3, NulFrost Ring, Freezerburn |
| 5 | Arctic Wind x4, Ice Gem x4, Angel Earrings, Mortal Shock |
Missions
[
]
Chapter Two
[
]
Spring into Action
[
]
Note: This is a compulsory mission which is required to complete the game.
We'll need uniforms to sneak into Chateau Leblanc, so what are you waiting for? Get to it!
Objective: Steal a uniform from a female Syndicate member at the hot springs.
Unlock: Becomes available when the party returns to the Celsius after they hand over the 'Awesome Sphere'.
Reward: Stonehewn Garment Grid, Syndicate Uniform.
Chapter Three
[
]
Battle Blockade
[
]
Note: This is not a compulsory mission, thus is not required to complete the game.
Garik, in his hatred of the Guado, has decided to launch an attack! Meet him on the summit of Mt. Gagazet and stop him - by force, if that's what it takes.
Objective: Stop Garik's attack.
Unlock: Becomes available at the beginning of Chapter Three.
Reward: Wishbringer Garment Grid.
Episode Complete
[
]
Well, Kimahri and Garik have made peace, and Lian and Ayde are back on the mountain! Things are looking pretty good!

Mt. Gagazet highlighted on

Celsius

locations list
Lian and Ayde have returned to Mt. Gagazet, but Garik Ronso is still feeling resentment about the Guado. It takes a lecture from Elder Kimahri Ronso to teach him and the rest of the Ronso to grow by working together peacefully.
To get Episode Complete in Mt. Gagazet the player complete the following:
Chapter 3 – The player must must talk to Lian and Ayde at the Thunder Plains and choose any of the locations for them to go to next. Lian and Ayde appear in the Thunder Plains if Yuna found them earlier in the game.
Chapter 3 – The player must defeat Garik at the Mt. Gagazet summit.
Chapter 4 – The player must see/hear about Lian and Ayde on the Commsphere at the location they were sent to.
Chapter 5 – The player must find Kimahri and Garik atop Mt. Gagazet.
Episode Concluded
[
]
I guess the Ronso really do have to deal with Ronso problems.

Mt. Gagazet highlighted on

Celsius

locations list
Yuna fails to stop Garik from slaughtering all the Guado. Though Garik killed the remaining Guado, he is still not satisfied despite Kimahri telling him that his wishes came true and calls Garik a murderer.
Items
[
]
Final Fantasy X-2

[

]
Enemies
[
]
Mountain Path

Mountain Gate
Mountain Trail
Prominence

Mountain Cave

Mountain Cave
Submerged Passage (all three screens)
Summit Region
Musical themes
[
]
The music that plays on Mt. Gagazet is called "Servants of the Mountain". It also plays in the battle against Biran and Yenke over the usual battle themes. A piano arranged version is included on the Piano Collections: Final Fantasy X album. The original version is included in the Final Fantasy XV music player.
"Hymn of the Fayth - The Ronso" plays after Kimahri defeats Biran and Yenke. "Calm Before the Storm" plays in the Mountain Cave. "Wandering" plays after the Sanctuary Keeper is defeated.
In Final Fantasy X-2 the theme of the mountain is called "Mt. Gagazet".

Other appearances
[
]
Mt. Gagazet acts as the background for the Field Music Sequence of "Servants of the Mountain".
Mt. Gagazet, Part 1
[
]
Mt. Gagazet, Part 2
[
]
Mt. Gagazet - Cavern
[
]
Behind the scenes
[
]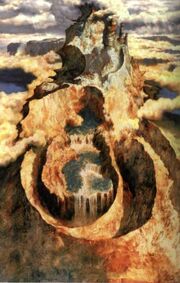 The Ronso treating Mt. Gagazet as a sacred place may allude to the Japanese culture where many mountains are considered holy with a Buddhist temple/shrine located on them. Thus they're sites of pilgrimages where people will climb up and pray.
There is a trade material called "Gagazet Steel", possibly a reference to what the Ronso had said about how Yuna's will is stronger than tempered steel.

Gallery
[
]
Final Fantasy X
Final Fantasy X-2