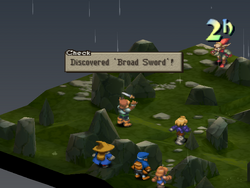 Finds hidden Save/Draw Points.
Move-Find (隠しポイント発見, Kakushi Pointo Hakken?), also known as Move-Find Item (アイテム発見移動, Aitemu Hakken Idō?) or Treasure Hunter, is an ability in the Final Fantasy series. It allows the player to uncover hidden aspects such as items or magic.
Appearances
[
]
Move-Find is a party ability learned through the Guardian Force Siren for 40 AP. Junctioning Siren and equipping this ability to a character uncovers hidden draw points and save points in the field. Draw points on the world map are always invisible and can't be discovered by equipping Move-Find.
Hidden draw points
[
]
Hidden save points
[
]
Treasure Hunter (also called Move-Find Item) is a movement ability learned by the Chemist job for 100 JP. With this ability, booby trapped squares will instead yield an item. Much like reaction abilities, Bravery dictates its effectiveness.
However, it is more effective with more cowardly characters, as Bravery score (in percentage) dictates the chances of getting what is usually the weaker item by percentage.