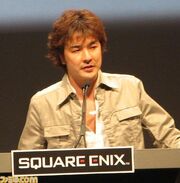 Motomu Toriyama (鳥山 求 or 鳥山 モトム, Toriyama Motomu?) is a Japanese game director and scenario writer who has been working for Square Enix since 1994. He initially worked on event scenes in Bahamut Lagoon and Final Fantasy VII. Toriyama started codirecting with Final Fantasy X, and continued as main director with Final Fantasy X-2, Final Fantasy XIII and its sequels Final Fantasy XIII-2 and Lightning Returns: Final Fantasy XIII.
He is a member of Square Enix's Business Division 1[1] and the Final Fantasy Committee.[2]
Biography
[
]
Motomu Toriyama joined Square in 1994. At the time, Square was on the process of creating Final Fantasy VII. Toriyama was placed under the authority of Yoshinori Kitase, who decided Toriyama's role as event planner for the early parts of that game. Toriyama wrote and directed many of the scenes revolving around Cloud Strife and Aerith Gainsborough. He tried to make Aerith an important character to the player to maximize the impact of her death.[3]
Works within the series
[
]
Game
Release
Toriyama's credit(s)
Final Fantasy VII
1997
Event Planner, Submarine Chase Section Planner[4]
Final Fantasy X
2001
Director (Event), Scenario Writer (with Kazushige Nojima and Daisuke Watanabe)
Final Fantasy X-2
2003
Director
Final Fantasy VII Technical Demo for PS3
2005
Director
Final Fantasy XII: Revenant Wings
2007
Director, Scenario Writer, Event Direction
Final Fantasy Crystal Chronicles: My Life as a King
2008
Scenario Writer
Dissidia Final Fantasy
2008
Scenario Supervisor
Final Fantasy Crystal Chronicles: My Life as a Darklord
2009
Scenario Director
Final Fantasy XIII
2009
Director, Scenario Designer, Lyrics[5]
Dissidia 012 Final Fantasy
2011
Special Thanks
Final Fantasy XIII-2
2011
Director, Lyrics[6]
Final Fantasy XIV: A Realm Reborn
2013
Scenario Writer for the Lightning Strikes event[7]
Lightning Returns: Final Fantasy XIII
2013
Director, Lyrics[8]
Final Fantasy X/X-2 HD Remaster
2013
Supervisor[9]
Mobius Final Fantasy
2015
Director[10][11], Lyrics
Dissidia Final Fantasy NT
2015
Special Thanks
Kingsglaive: Final Fantasy XV
2016
Special Thanks[12]
Final Fantasy XIV: Heavensward
(Patch 3.56)
2017
Special Thanks[13]
Final Fantasy XIV: Stormblood
2017
Special Thanks[14]
Itadaki Street: Dragon Quest & Final Fantasy 30th Anniversary
2017
Scenario Supervisor
Final Fantasy VII Remake
2020
Co-director (Scenario Design),[15] Original Lyrics
Final Fantasy VII The First Soldier
2021
Supervisory Support
External links
[
]
References
[
]