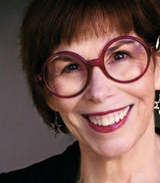 Mona Ianotti who goes by the name Mona Marshall (born August 31, 1947) is an American voice actress.
Roles
[
]
Background
[
]
A theater major and elementary school teacher, Mona was encouraged to enroll in a voiceover class held by the late Daws Butler, who held leading roles of Hanna-Barberra mainstays Yogi Bear and Quick Draw McGraw. Due to her range able to cover coming of age boy roles, she was featured heavily in minor roles in anime and children's shows; of her first breakthrough in video games, Mona voiced the lead character Musashi of the hit 1998 Squaresoft Action RPG early isekai historic fantasy game Brave Fencer Musashi. Outside of voice acting, she appeared as an extra on 1980s sitcoms like the Tony Danza and Alyssa Milanno feature Who's The Boss? and Cheers.
She is most well known for voicing Shu in Blue Dragon, Izzy Izumi and Terriermon in the Digimon series, Doraemon in Doraemon, Toboe in Wolf's Rain, Kite in the .hack series, young Ichigo Kurosaki in Bleach and various characters in South Park.
External links
[
]