Relm
:
I couldn't miss the chance to practice my drawing!
This article is in need of a few pictures. Perhaps you can help by uploading a picture of add images to the tables.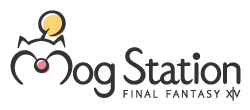 Mog Station is the account management system for Final Fantasy XIV: A Realm Reborn. Within Mog Station the player can manage their monthly subscription payment and purchase optional services.
On October 27, 2014 Square Enix implemented a cash shop to the Mog Station.
Services
[
]
Account management
World transfer service
Veteran Rewards
Optional Items
Veteran Rewards
[
]
Veteran Rewards[1] are special in-game item bonuses awarded based on how long the player has had an active subscription. These rewards will be distributed via the moogle delivery service once the player has reached a certain number of days subscribed.
Veteran Rewards are granted based on the number of days subscribed rather than time played. For example, a player who subscribes for 240 days is eligible to receive the 60, 150, and 240 day Veteran Rewards all on their first day. In the event there is a break in your subscription, the period between the expiration and renewal of your subscription will not be included in the total.
| Rank | Days subscribed | Reward(s) |
| --- | --- | --- |
| 1 | 60 | Advent Attire* The set contains: Strife Vest, Strife Gloves, Strife Bags, Strife Boots |
| 2 | 150 | Tantalus Attire* The set contains: Tantalus Vest, Tantalus Cuffs, Tantalus Breeches, Tantalus Boots |
| 3 | 240 | Wild Rose Attire* The set contains: Wild Rose Bandana, Wild Rose Cuirass, Wild Rose Armguards, Wild Rose Breeches, Wild Rose Boots |
| 4 | 330 | Leonhart Attire* The set contains: Leonhart Jacket, Leonhart Gloves, Leonhart Bottoms, Leonhart Boots |
Optional Items
[
]
Items can be purchased via the Mog Station under Optional Items.
Character
[
]
| Item | Image | Price | Description |
| --- | --- | --- | --- |
| Minfilia's Attire | | | Dress up as Minfilia from the Scions of the Seventh Dawn. |
| Y'shtola's Attire | | | Dress up as Y'shtola from the Scions of the Seventh Dawn. |
| Thancred's Attire | | | Dress up as Thancred from the Scions of the Seventh Dawn. |
| Yda's Attire | | | Dress up as Yda from the Scions of the Seventh Dawn. |
| Papalymo's Attire | | | Dress up as Papalymo from the Scions of the Seventh Dawn. |
| Urianger's Attire | | | Dress up as Urianger from the Scions of the Seventh Dawn. |
| Lightning's Attire | | | Dress up as the lady-warrior Lightning from FINAL FANTASY XIII! |
| Snow's Attire | | | Dress up as Snow from FINAL FANTASY XIII! |
| Cid's Attire | | | Dress up as Cid, leader of the Garlond Ironworks. |
| Garlond Ironworks Attire | | | Suit up in gear crafted by the Garlond Ironworks. |
| Y'shtola's Modish Attire | | | Try this new look from Y'shtola of the Scions of the Seventh Dawn. |
| Thancred's Modish Attire | | | Try this new look from Thancred of the Scions of the Seventh Dawn. |
| Far Eastern Garb for Men | | | Traditional Far Eastern garb for men. |
| Far Eastern Garb for Women | | | Traditional Far Eastern garb for women. |
| Far Eastern Patriarch's Attire | | | Traditional patriarch's attire from the Far East. |
| Far Eastern Matriarch's Attire | | | Traditional matriarch's attire from the Far East. |
| Aymeric's Attire | | | Dress up as Ser Aymeric, lord commander of the Temple Knights. |
| Ward Knight's Attire | | | Dress up as a knight of the Heavens' Ward. |
| Ward Mage's Attire | | | Dress up as a mage of the Heavens' Ward. |
| Armoury of the Heavens' Ward: Lancer's Arms | | | A set of holy lances belonging to knights of the Heavens' Ward. |
| Armoury of the Heavens' Ward: Marauder's Arms | | | A set of holy axes belonging to knights of the Heavens' Ward. |
| Armoury of the Heavens' Ward: Gladiator's Arms | | | A set of holy swords and shield belonging to knights of the Heavens' Ward. |
| Armoury of the Heavens' Ward: Conjurer's Arms | | | A pair of holy two-handed conjurer's arms belonging to knights of the Heavens' Ward. |
| Armoury of the Heavens' Ward: Dark Knight's Arm | | | A holy two-handed sword belonging to a knight of the Heavens' Ward. |
| Armoury of the Heavens' Ward: Thaumaturge's Arm | | | A holy two-handed thaumaturge's arm belonging to a knight of the Heavens' Ward. |
| Moogle Attire | | | Charming moogle attire to make you feel kupo-rific! |
| Yellow-pommed Moogle Cap | | | Embrace your inner moogle with this yellow-pommed cap! |
| Fuga Attire | | | Traditional garb with a touch of Far Eastern refinement. |
| Blackbosom Attire | | | Dress in the wickedly wonderful garb of Edda Blackbosom. |
| Blackbosom Reaper's Collection | | | A collection of arms resembling the scythe wielded by Edda Blackbosom. |
| Blackbosom Grim Reaper | | | A marauder's arm resembling the scythe wielded by Edda Blackbosom. |
| Blackbosom Fate Reaper | | | A lancer's arm resembling the scythe wielded by Edda Blackbosom. |
| Blackbosom Soul Reaper | | | A dark knight's arm resembling the scythe wielded by Edda Blackbosom. |
| Blackbosom Heart Reaper | | | A conjurer's arm resembling the scythe wielded by Edda Blackbosom. |
| Blackbosom Blood Reaper | | | A thaumaturge's arm resembling the scythe wielded by Edda Blackbosom. |
| Far Eastern Noble's Attire | | | Traditional garb for nobles of the Far East. |
| Far Eastern Gentleman's Attire | | | Traditional garb for gentlemen of the Far East. |
| Far Eastern Beauty's Attire | | | Traditional garb for ladies of the Far East. |
| Scion Liberator's Attire | | | Dress up as Lyse, leader of the Ala Mhigan Resistance. |
| Emerald Carbuncle Attire | | | Perfect dress for the Carbuncle connoisseur. |
| Topaz Carbuncle Attire | | | Perfect dress for the Carbuncle connoisseur. |
| Loyal Housemaid's Uniform | | | The perfect attire to attend the lords and ladies of your house. |
| Loyal Butler's Uniform | | | The perfect attire to attend the lords and ladies of your house. |
| Distressed Manderville Attire | | | Pay tribute to everyone's favorite investigator. |
| Emerald Carbuncle Slippers | | | Luxuriate in cuteness and comfort with this Carbuncle footwear. |
| Topaz Carbuncle Slippers | | | Luxuriate in cuteness and comfort with this Carbuncle footwear. |
| Nezha Lord's Attire | | | A dashing ensemble for men inspired by Nezha─hero of Doman legend. |
| Nezha Lady's Attire | | | A dashing ensemble for women inspired by Nezha─hero of Doman legend. |
| Angelic Attire | | | For adventurers as sweet as an angel who want to look the part. |
| Demonic Attire | | | A costume to embrace one's inner demon. |
| Faerie Tale Prince's Attire | | | Become the perfect prince you've always dreamed of. |
| Faerie Tale Princess's Attire | | | Become the pretty princess you've always dreamed of. |
| Lord Hien's Attire | | | Dress up as Lord Hien of Doma. |
| Gosetsu's Attire | | | Dress up as Gosetsu of Doma. |
| Abes Attire | | | Dress up as Tidus! |
| High Summoner's Attire | | | Dress up as Yuna! |
| Minfilia's Modish Attire | | | May you ever be appropriately dressed to walk in the Light of the Crystal. |
| Far Eastern Schoolgirl's Uniform | | | A complete set of fashionable Hingan attire for the modern young lady. |
| Far Eastern Schoolboy's Uniform | | | A complete set of fashionable Hingan attire for the modern young man. |
| Eastern Socialite's Attire | | | Make your mark on modern society with the latest in Far Eastern fashion. |
| Mun'gaek Attire | | | Carve your place in history with this distinctive modern attire. |
| Far Eastern Maiden's Attire | | | Inspired Far Eastern fashion for the discerning lady. |
| Far Eastern Officer's Uniform | | | Distinctive Far Eastern attire for the discerning gentleman. |
| Exclusive Eastern Journey Attire | | | Includes exclusive Eastern journey battle staff to help you look the part! |
| Krile's Attire | | | Dress up as the Scions' most scientifically minded member! |
| Alma's Attire | | | Dress up as Alma bas Lexentale from the Majestic Imperial Theater Company. |
| Nightseeker | | | A cane crafted to resemble Nightseeker, the arcane weapon of Y'shtola. |
| Brave New Y'shtola Attire | | | Try this brave new look from Y'shtola of the Scions of the Seventh Dawn. |
| Ruby Carbuncle Slippers | | | Luxuriate in cuteness and comfort with this Carbuncle footwear. |
| Ruby Carbuncle Attire | | | Perfect dress for the Carbuncle connoisseur. |
| Mheg Deaca Attire | | | It's a bird! It's a pixie! It's...you! |
| Gigas Greatsword | | | Speak softly and carry a big sword! |
| Tonberry Knife | | | It's sharp! |
| Blazefire Saber | | | An otherworldly gladiator's arm. |
| Vega Knuckles | | | An otherworldly pair of pugilist's arms. |
| l'Cie Bardiche | | | An otherworldly marauder's arm. |
| Bladed Lance | | | An otherworldly lancer's arm. |
| Starseeker | | | An otherworldly archer's arm. |
| Binding Rod | | | An otherworldly conjurer's arm. |
| Mog's Staff | | | An otherworldly thaumaturge's arm. |
| Grimoire Wing | | | An otherworldly arcanist's arm. |
Main Scenario Progression
[
]
| Item | Image | Price | Description |
| --- | --- | --- | --- |
| Tales of Adventure: A Realm Reborn | | | Use this item to complete the main scenario of A Realm Reborn. |
| Tales of Adventure: Heavensward | | | Use this item to complete the main scenario of A Realm Reborn and Heavensward. |
| Tales of Adventure: Stormblood | | | Use this item to complete the main scenario of A Realm Reborn, Heavensward, and Stormblood. |
Level Boost
[
]
| Item | Image | Price | Description |
| --- | --- | --- | --- |
| Tales of Adventure: One Paladin's Journey II | | | Use this item and learn everything you need to begin your adventure as a level 70 paladin. |
| Tales of Adventure: One Warrior's Journey II | | | Use this item and learn everything you need to begin your adventure as a level 70 warrior. |
| Tales of Adventure: One Dark Knight's Journey II | | | Use this item and learn everything you need to begin your adventure as a level 70 dark knight. |
| Tales of Adventure: One White Mage's Journey II | | | Use this item and learn everything you need to begin your adventure as a level 70 white mage. |
| Tales of Adventure: One Scholar's Journey II | | | Use this item and learn everything you need to begin your adventure as a level 70 scholar. |
| Tales of Adventure: One Astrologian's Journey II | | | Use this item and learn everything you need to begin your adventure as a level 70 astrologian. |
| Tales of Adventure: One Monk's Journey II | | | Use this item and learn everything you need to begin your adventure as a level 70 monk. |
| Tales of Adventure: One Dragoon's Journey II | | | Use this item and learn everything you need to begin your adventure as a level 70 dragoon. |
| Tales of Adventure: One Ninja's Journey II | | | Use this item and learn everything you need to begin your adventure as a level 70 ninja. |
| Tales of Adventure: One Samurai's Journey I & II | | | Use this item and learn everything you need to begin your adventure as a level 70 samurai. |
| Tales of Adventure: One Bard's Journey II | | | Use this item and learn everything you need to begin your adventure as a level 70 bard. |
| Tales of Adventure: One Machinist's Journey II | | | Use this item and learn everything you need to begin your adventure as a level 70 machinist. |
| Tales of Adventure: One Black Mage's Journey II | | | Use this item and learn everything you need to begin your adventure as a level 70 black mage. |
| Tales of Adventure: One Summoner's Journey II | | | Use this item and learn everything you need to begin your adventure as a level 70 summoner. |
| Tales of Adventure: One Red Mage's Journey I & II | | | Use this item and learn everything you need to begin your adventure as a level 70 red mage. |
| Tales of Adventure: One Retainer's Journey II | | | Use this item to teach your retainer all they need to attain level 70. |
| Three Copies of Tales of Adventure: One Retainer's Journey II | | | Use this item to teach your retainer all they need to attain level 70. |
| Five Copies of Tales of Adventure: One Retainer's Journey II | | | Use this item to teach your retainer all they need to attain level 70. |
Fantasia
[
]
| Item | Image | Price | Description |
| --- | --- | --- | --- |
| Phial of Fantasia | | $10 | A wondrous item for the ultimate makeover! |
| Three Phials of Fantasia | | $28 | A wondrous item for the ultimate makeover! |
| Five Phials of Fantasia | | $45 | A wondrous item for the ultimate makeover! |
Mounts
[
]
| Item | Image | Price | Description |
| --- | --- | --- | --- |
| Mount: White Devil (Single Character) | | | Roam the wilds of Eorzea aboard the White Devil! |
| Mount: Red Baron (Single Character) | | | Roam the wilds of Eorzea aboard the Red Baron! |
| Mount: Bennu (Account-wide) | | | Command the skies atop this mythical bird of legend. |
| Mount: Fat Moogle (Account-wide) | | | Take a ride with a moogle built for two. |
| Mount: Witch's Broom (Single Character) | | | This witch's broom mount will sweep you off your feet! |
| Mount: Sleipnir (Account-wide) | | | The undying steed of the elder primal Odin. |
| Mount: Aquamarine Carbuncle (Account-wide) | | | Roam the land astride a majestic Aquamarine Carbuncle! |
| Mount: Citrine Carbuncle (Account-wide) | | | Roam the land astride a majestic Citrine Carbuncle! |
| Mount: Mystic Panda (Account-wide) | | | Traverse both land and sky with this mysterious mystic panda. |
| Mount: Eggshilaration System (Single Character) | | | Fly the festive skies with this eggsquisite mechanical mount. |
| Mount: Nezha Chariot (Account-wide) | | | Blaze a trail atop this otherworldly chariot. |
| Mount: Starlight Bear (Single Character) | | | What could be more festive than a...bear? |
| Mount: Broken Heart (Left) (Single Character) | | | Meet this romantic mount's better half! |
| Mount: Broken Heart (Right) (Single Character) | | | There is nothing half-hearted about this half-a-heart chair! |
| Mount: Red Hare (Account-wide) | | | By land or sky, nothing is beyond the reach of the Red Hare. |
| Mount: Indigo Whale (Account-wide) | | | This two-passenger mount promises a whale of a good time. |
| Mount: Magicked Carpet (Account-wide) | | | Soar through the sky while lying on the floor with this faerie-tale mount. |
| Mount: Sunspun Cumulus (Single Character) | | | Only those pure of heart are permitted to ride! |
| Mount: Fatter Cat (Account-wide) | | | The portly mount of your wildest imaginings. |
| Mount: SDS Fenrir (Account-wide) | | | Tear up the roads with this SDS Fenrir battlebike. |
| Mount: Spriggan Stonecarrier (Account-wide) | | | Leave the heavy lifting to this spriggan carrier! |
| Mount: Rubellite Carbuncle (Account-wide) | | | Roam the land astride a majestic Rubellite Carbuncle! |
Minions
[
]
| Item | Image | Price | Description |
| --- | --- | --- | --- |
| Minion: Wind-up Y'shtola | | $5 | A clockwork doll crafted to resemble Y'shtola. |
| Minion: Wind-up Yda | | $5 | A clockwork doll crafted to resemble Yda. |
| Minion: Wind-up Papalymo | | $5 | A clockwork doll crafted to resemble Papalymo. |
| Minion: Wind-up Urianger | | | A clockwork doll crafted to resemble Urianger. |
| Minion: Wind-up Edvya | | | A darling minion crafted in the image of Princess Edvya. |
| Minion: Wind-up Alisaie | | | A clockwork doll crafted to resemble Alisaie. |
| Minion: Wind-up Tataru | | | A clockwork doll crafted to resemble Tataru. |
| Minion: Wind-up Minfilia | | | A clockwork doll crafted to resemble Minfilia. |
| Minion: Wind-up Thancred | | | A clockwork doll crafted to resemble Thancred. |
| Minion: Hoary the Snowman | | | You'll be cold but never alone with this darling snowman! |
| Minion: Tender Lamb | | | A soft and fluffy lamb to call your very own. |
| Minion: Panda Cub | | | A cuddly panda to call your very own! |
| Minion: Doman Magpie | | | A darling companion to fill your days with birdsong. |
| Minion: Wind-up Iceheart | | | A clockwork doll crafted to resemble Ysayle. |
| Minion: Wind-up Yugiri | | | A clockwork doll crafted to resemble Yugiri. |
| Minion: Pumpkin Butler | | | This cute and creepy butler lives to serve...and scare! |
| Minion: Wind-up Krile | | | A clockwork doll crafted to resemble Krile. |
| Minion: Dress-up Y'shtola | | | A clockwork doll crafted to resemble a sharply dressed Y'shtola. |
| Minion: Continental Eye | | | A creepy, cuddly minion that's sure to keep an eye on you. |
| Minion: Wind-up Shantotto | | | A charming minion modeled after the sorceress Shantotto. |
| Minion: Angel of Mercy | | | An adorable little minion said to be a gift from the heavens. |
Eternal Bond
[
]
| Item | Image | Price | Description |
| --- | --- | --- | --- |
| Promise of Innocence (Standard) | | $N/A (Free) | A wristlet required for the standard plan Ceremony of Eternal Bonding. |
| Promise of Passion (Gold) | | $10 | A wristlet required for the gold plan Ceremony of Eternal Bonding. |
| Promise of Devotion (Platinum) | | $20 | A wristlet required for the platinum plan Ceremony of Eternal Bonding. |
Seasonal (Unisex)
[
]
| Item | Image | Price | Description |
| --- | --- | --- | --- |
| The Howling Spirit | | $5 | Dress up as a grinning ghost! |
| The Wailing Spirit | | $5 | Dress up as a spooky specter! |
| Pumpkin Head | | $3 | A pumpkin you can wear! |
| Unripened Pumpkin Head | | $3 | A green pumpkin you can wear! |
| White Pumpkin Head | | $3 | A white pumpkin you can wear! |
| Ripened Pumpkin Head | | $3 | An orange pumpkin you can wear! |
| | | | |
| | | | |
| | | | |
| | | | |
| | | | |
| | | | |
| | | | |
| | | | |
| | | | |
| | | | |
| | | | |
| | | | |
| | | | |
| | | | |
| | | | |
| | | | |
| | | | |
| | | | |
| | | | |
| | | | |
| | | | |
| | | | |
| | | | |
| | | | |
| | | | |
| | | | |
| | | | |
| | | | |
| | | | |
| | | | |
| | | | |
| | | | |
| | | | |
| | | | |
| | | | |
| | | | |
| | | | |
| | | | |
| | | | |
| | | | |
| | | | |
| | | | |
| | | | |
| | | | |
| | | | |
| | | | |
| | | | |
| | | | |
| | | | |
| | | | |
| | | | |
| | | | |
| | | | |
| | | | |
| | | | |
| | | | |
| | | | |
| | | | |
| | | | |
| | | | |
| | | | |
| | | | |
| | | | |
| | | | |
| | | | |
| | | | |
| | | | |
Seasonal (Men's)
[
]
| Item | Image | Price | Description |
| --- | --- | --- | --- |
| | | | |
| | | | |
| | | | |
| | | | |
| | | | |
| | | | |
| | | | |
| | | | |
| | | | |
| | | | |
| | | | |
| | | | |
| | | | |
| | | | |
| | | | |
| | | | |
| | | | |
| | | | |
| | | | |
| | | | |
| | | | |
| | | | |
| | | | |
| | | | |
Seasonal (Women's)
[
]
| Item | Image | Price | Description |
| --- | --- | --- | --- |
| | | | |
| | | | |
| | | | |
| | | | |
| | | | |
| | | | |
| | | | |
| | | | |
| | | | |
| | | | |
| | | | |
| | | | |
| | | | |
| | | | |
| | | | |
| | | | |
| | | | |
| | | | |
| | | | |
| | | | |
| | | | |
| | | | |
| | | | |
| | | | |
Housing
[
]
| Item | Image | Price | Description |
| --- | --- | --- | --- |
| | | | |
| | | | |
| | | | |
| | | | |
| | | | |
| | | | |
| | | | |
| | | | |
| | | | |
| | | | |
| | | | |
| | | | |
| | | | |
| | | | |
| | | | |
| | | | |
| | | | |
| | | | |
| | | | |
| | | | |
| | | | |
| | | | |
| | | | |
| | | | |
| | | | |
| | | | |
| | | | |
| | | | |
| | | | |
| | | | |
| | | | |
| | | | |
| | | | |
| | | | |
| | | | |
| | | | |
| | | | |
| | | | |
| | | | |
| | | | |
| | | | |
| | | | |
| | | | |
| | | | |
| | | | |
| | | | |
| | | | |
| | | | |
| | | | |
| | | | |
| | | | |
| | | | |
| | | | |
| | | | |
| | | | |
| | | | |
| | | | |
| | | | |
| | | | |
| | | | |
| | | | |
| | | | |
| | | | |
| | | | |
| | | | |
| | | | |
| | | | |
| | | | |
Dyes
[
]
| Item | Image | Price | Description |
| --- | --- | --- | --- |
| | | | |
| | | | |
| | | | |
| | | | |
| | | | |
| | | | |
| | | | |
| | | | |
| | | | |
| | | | |
| | | | |
| | | | |
| | | | |
| | | | |
| | | | |
| | | | |
| | | | |
| | | | |
| | | | |
| | | | |
| | | | |
| | | | |
| | | | |
| | | | |
| | | | |
| | | | |
| | | | |
| | | | |
| | | | |
| | | | |
| | | | |
| | | | |
| | | | |
| | | | |
| | | | |
| | | | |
| | | | |
| | | | |
| | | | |
| | | | |
Emotes
[
]
| Item | Image | Price | Description |
| --- | --- | --- | --- |
| | | | |
| | | | |
| | | | |
| | | | |
| | | | |
| | | | |
| | | | |
| | | | |
| | | | |
| | | | |
| | | | |
| | | | |
| | | | |
| | | | |
| | | | |
| | | | |
| | | | |
Chocobo Barding
[
]
| Item | Image | Price | Description |
| --- | --- | --- | --- |
| Eerie Barding | | | Eerie barding for your chocobo companion! |
| Doman Barding | | | Traditional Far Eastern barding for chocobos. |
| Butlery Barding | | | Your chocobo can serve in a new capacity with this butlery barding. |
| Egg Hunter Barding | | | A festive egg-themed barding for your chocobo companion. |
| Angelic Barding | | | Give your chocobo a taste of the divine with this angelic barding. |
| Demonic Barding | | | Give your chocobo a taste of the dark with this demonic barding. |
| Nezha Barding | | | A suit of barding inspired by Nezha─hero of Doman legend. |
Orchestrion Rolls
[
]
| Item | Image | Price | Description |
| --- | --- | --- | --- |
| Pa-Paya Orchestrion Roll | | | Enjoy the music of Hatching-tide with this Pa-Paya orchestrion roll. |
| Moonfire Faire Orchestrion Roll | | | Enjoy the music of summer with this Moonfire Faire orchestrion roll. |
| Heavensward Orchestrion Roll | | | Treat your ears to this Heavensward orchestrion roll and reminisce about your adventures in Ishgard. |
| All Saints' Wake Orchestrion Roll | | | Treat your ears to the seasonal music of the All Saints' Wake orchestrion roll. |
| Up at Dawn Orchestrion Roll | | | Treat your ears to the haunting melody of the Up at Dawn orchestrion roll. |
| Starlight Celebration Orchestrion Roll | | | Treat your ears to the seasonal music of the Starlight Celebration orchestrion roll. |
| Heavensturn Orchestrion Roll | | | Enjoy the music of the New Year's celebration with this Heavensturn orchestrion roll. |
| The Kiss Orchestrion Roll | | | Enjoy the music of Valentione's Day with The Kiss orchestrion roll. |
| Rise of the White Raven (Orchestral Version) Orchestrion Roll | | | Relive the encounter with one of your deadliest foes with the Rise of the White Raven (Orchestral Version) orchestrion roll. |
| Revenge Twofold (Orchestral Version) Orchestrion Roll | | | Revisit past glories with the Revenge Twofold (Orchestral Version) orchestrion roll. |
| Oblivion (Orchestral Version) Orchestrion Roll | | | Powerful emotions are reborn with the Oblivion (Orchestral Version) orchestrion roll. |
| Hyper Rainbow Z Orchestrion Roll | | | Treat your ears to the jovial melody of the Hyper Rainbow Z orchestrion roll. |
References
[
]