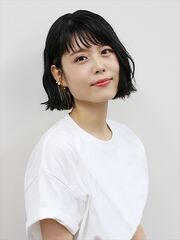 Miyuki Sawashiro (沢城 みゆき, Sawashiro Miyuki?) born June 2, 1985 in Tokyo is a Japanese voice actress and singer who works for Mausu Promotion. She voiced Minfilia Warde in Final Fantasy XIV, Sice in Final Fantasy Type-0 and Final Fantasy Agito, Aranea Highwind in Final Fantasy XV and Quistis Trepe in World of Final Fantasy.
Biography
Edit
She participated in voice actor auditions of Di Gi Charat on May 2, 1999, and she won the Special Jury Prize. She voiced Puchiko in the English dubbed release of Leave it to Piyoko, making her the first and one of the few Japanese voice actors to have reprised a role in English in addition to the original Japanese performance. She was not able to record for the English dub of the Di Gi Charat TV series because of a scheduling conflict. She was affiliated with Mausu Promotion since the start of her voice acting career until August 2015 when she became affiliated with Aoni Production.
Background
Edit
She is most known for being voices for Asada Shino (Sinon) in Sword Art Online II, Cammy in Street Fighter IV, Ultear, Virgo and Ur in Fairy Tail, Ayane Yano in Kimi ni Todoke, Kurapika in Hunter × Hunter (2011 release), and Milla Maxwell and her fractured self in Tales of Xillia and Tales of Xillia 2. She also voiced Celty from Durarara!! as well as the female Avatar in Fire Emblem: Awakening and Camilla in Fire Emblem Fates.
External links
Edit
Community content is available under
CC-BY-SA
unless otherwise noted.