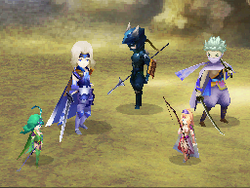 Mini (ミニマム, Minimamu?, lit. Minimum), also known as Size, Small or Minimum, is a status ailment that shrinks the target. While in Mini status, a player is still able to cast magic, but their physical power drops dramatically, and all attacks do only a single point of damage. Their physical Defense also drops. The Mini status is usually inflicted by the eponymous spell, and can also be removed with it, except in Final Fantasy II.
Appearances
Edit
Mini causes an afflicted party member to shrink, and their physical attack power is reduced significantly. When used on enemies, Mini acts as an Instant Death spell. There is a chance of recovery at the end of each turn and does not last after battle. It can be cured by Basuna at level 4 or higher. It should be noted that this is the only game in the series in which the Mini spell does not cure the status.
The status is gained from the Mini spell. In the DS version, the party needs to be in Mini status to access Castle Hein, Nepto Temple, Cave of the Circle as well as Tozus.
The Mini status disables the Aim, Focus, Kick, Brace, Twincast, Bluff, Cry, Cover, Analyze, Throw, and Regen commands. Additionally, attack is set to 1, defense and evade are set to 0, and anyone attacking a target with Mini status has attack doubled. When afflicted by Mini, the character will deal only 1 point of damage. In the Advance remake, this will disable monster spells if used on a monster.
The Mini spell, along with Bad Breath, are the only ways for Mini to be inflicted upon the party.
The Mini status returns as a status effect in the sequel of Final Fantasy IV, and it functions the same way as its predecessor.
The Mini status returns as a status effect in the sequel of Final Fantasy IV, and it functions the same way as its predecessors.
The Blue Magic spell Lilliputian Lyric and the White Magic spell Mini are the only sure means of inflicting Mini on a character, while Grand Cross and Curse can sometimes cause it at random.
The Ribbon accessory does not prevent Mini.
The formula for how Mini works is as follows:
Defense = 0, Evade% = Evade% * 2

$ Damage = (3 - Target Defense) * M $

$ M = (Strength*Level)/128 + 2 or Monster Attack Multiplier $
Any character afflicted with the Small status will automatically have their Attack Power reduced to 1, therefore never doing more than 1 damage to the enemy. Unlike most other statuses, Small is not removed when a character is KO'd, but the status does not last after battle. The enemy Hungry can eat a character in Small status.
| Game Element | Type | Effect |
| --- | --- | --- |
| Mini | Magic | Inflicts or cures Small. |
| Bad Breath | Enemy Skill | Inflicts Small as well as other statuses to all enemies. |
| L4 Suicide | Enemy Skill | Reduces HP by 31/32 and inflicts Small to enemies whose levels are a multiple of 4. |
| Pale Horse | Enemy Attack | Inflicts major non-elemental damage as well as Frog, Small, and Sadness. |
| Right Revenge | Enemy Attack | Reduces HP by 15/32 and inflicts Small and Slow-numb. |
| Right Thrust | Enemy Attack | Reduces HP by 15/16 and inflicts Small and Slow-numb. |
| White Cape | Accessory | Prevents Frog and Small. |
| Shrivel | Item | Casts Mini. |
| Cornucopia | Item | Cures Small status. |
Mini makes the target useless at physical attacks and halves their magic power. Some skills, such as Steiner's Darkside, ignore Mini.
Mini is not a spell that can be cast by players, but those wishing to participate in Ballista or Brenner matches in Abdhaljs have the spell cast upon them so they may enter the arena.
Minimum turns the player tiny and reduces damage dealt while increasing damage taken. It can only be inflicted by Gilgamesh and Amon.
The Mini causes characters to become tiny. The character sprites under Mini status are styled after the Mini sprites from Final Fantasy V, but each character has their own unique Mini sprite.
In the Duel Colosseum, the Mini status card will cause the player's HP not to be restored after battle.
The Mini status card appears in the new Labyrinth mode, and prevents characters from recovering HP after battle.
Non-Final Fantasy Appearances
Edit
The spell Mini from Kingdom Hearts Birth by Sleep inflicts the Mini status upon the target, which makes them smaller and hinders their attacking strength. In addition, the miniaturized targets can be simply stepped on by the player to inflict easy damage.
Community content is available under
CC-BY-SA
unless otherwise noted.