Mindflayer is an enemy in Final Fantasy XV fought during various main quests and hunts, and also found in the Balouve Mines, Steyliff Grove, and Costlemark Tower mazes.
Alpha

What might from a distance appear a man in robes grows ever more hideous on further inspection, its face twisted into an inhuman mask that makes a mockery of nature. The daemon breathes an enervating gas to weaken prey before sapping its quarry of all life.
Size: 9.18 ft. Weight: 311.9 lb.
Beta

A bold mindflayer that dares show its ghastly guise to the outside world in the Disc of Cauthess. As with any daemon willing to venture out of its lair, it can be assumed to have greater-than-average physical attributes.
Size: 9.22 ft. Weight: 313.7 lb.
Gamma

A mindflayer that defiles the Walls of Water. Its superior strength to its Lucian siblings and the recent local outbreak of daemon species strange to Altissia has led researchers to assert this daemon's origins are domestic.
Size: 9.31 ft. Weight: 316.3 lb.
Delta

A forgotten horror buried in the mines of Balouve. While its behaviors mimic those of most other mindflayers, it performs them with a devastating power.
Size: 9.38 ft. Weight: 327.6 lb.
Epsilon

A terrible scourge in the far reaches of Costlemark Tower. Few hunters have lived to tell the tale of this daemon, though perhaps it is in mankind's best interests that he know naught of the terror lurking within the tower walls.
Size: 9.48 ft. Weight: 331.8 lb.
| Name | Location | Rank | Type | Mark | Habitat | Level | Reward | Stars |
| --- | --- | --- | --- | --- | --- | --- | --- | --- |
| Exorcism of the Nebulawood | Wiz Chocobo Post | 1 | | Mindflayer x3 | The Nebulawood (Nighttime) | 19 | 3,190 gil, Moon Pendant | ★★ |
Lvl 19 Enemy
Lvl 19 Hunt
Lvl 26 Hunt
Lvl 75 Enemy
Lvl 86 Enemy
It uses both physical and magical attacks and uses Ice-elemental attacks. It inflicts Enfeebled and Confusion. It is weak to polearms and daggers. Most versions of it are weak to Lightning as well, bar the Lv86 Mindflayer at the Costlemark Tower Maze that absorbs it. They can drain HP from the party and blanket them in a white fog.
Exploiting the lower level versions' weakness to Lightning makes quick work of them. Elemancy and character-swapping to Ignis work for this purpose. When there are multiple enemies present, it is often a good idea to focus on the Mindflayer, and to focus on a single Mindflayer when there are multiple. For the Costlemark Tower Maze version, the player can use Flare.
Good times to hit the defense button is when the cold breath comes out of its mouth and when its hands turn purple. If they get the Berserk status, it means they have grown very strong but their defenses have dropped to zero, meaning they can be killed quickly.
Other appearances
Edit

This article or section is a stub about an enemy in Final Fantasy Airborne Brigade. You can help the Final Fantasy Wiki by expanding it.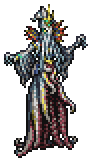 This article or section is a stub about an enemy in Final Fantasy Record Keeper. You can help the Final Fantasy Wiki by expanding it.

This article or section is a stub about an enemy in Final Fantasy Brave Exvius. You can help the Final Fantasy Wiki by expanding it.
Non-Final Fantasy guest appearancesEdit
Etymology
Edit
[view · edit · purge]Mindflayers, or "Illithids," are a race found in Dungeons & Dragons. They appear humanoid, with heads that resemble octopuses, and frequently are found in the Underdark. They have fearsome psychic powers, subsist on a diet comprised of the brain tissue of sapient beings, and often enslave other races.
The official guide gives different stats to the mindflayer fought in Altissia than the in-game bestiary.
Related enemies
Edit
Community content is available under
CC-BY-SA
unless otherwise noted.