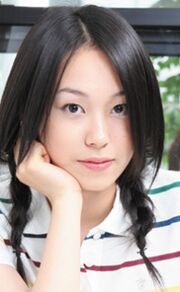 Minako Kotobuki (寿 美菜子, Kotobuki Minako, born September 17, 1991) is a Japanese actress, voice actress and singer from Hyogo Prefecture. She voices Serah Farron from the Lightning Saga.
Roles
[
]
Biography
[
]
Born in Kobe, Hyōgo Prefecture, at the age of three years, Kotobuki, along with her parents, was caught up in the Kobe earthquake. Not long after having seen a 1997 Japanese film entitled Chikyuu ga Ugoita Hi ("The Day the Earth Moved"), all of these events inspired Kotobuki to pursue a career in voice acting.
Kotobuki's most notable role in the span of her voice acting career is Tsumugi Kotobuki from K-On!. She has also played various popular voice roles such as Karina Lyle/Blue Rose from Tiger & Bunny, Mitsuko Kongō from the Index and Railgun anime series, Yūko Nishi from A Channel, and Natsumi Aizawa from Natsuiro Kiseki.
Background
[
]
She is best known for providing voices for Kotobuki Tsumugi in K-On!, Atsuko and Ellie in Pokemon.
External links
[
]