Michael-Christopher Koji Fox, also known as Koji Fox, M.C. Fox, or his forum alias Fernehalwes, is a translator working for Square Enix. He is also a co-lead world and lore developer for Final Fantasy XIV. Outside of official Square Enix duties, he appears on-stage as the vocalist of The Primals, a band composed of Square Enix musicians that cover the music of Final Fantasy XIV in a metal style.
Works in the series
[
]
Voice-acting roles
[
]
Fox voices the Black Mage character in Mario Hoops 3-on-3, co-developed by Square Enix.
He did the voices for the Moogles in the "Good King Moggle Mog XII" theme song in Final Fantasy XIV.
In-game appearances
[
]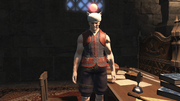 Fox appears in the 2015 edition of The Rising event, as one of the staffs in the Eighteenth Floor.

External links
[
]