For the Dissidia Final Fantasy song see The Messenger.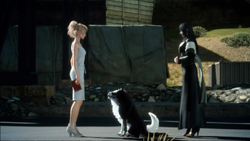 Just like the Oracle speaks to the gods for the people, the Messengers speak to the people for the gods.

Noctis Lucis Caelum
Messengers (二十四使, Nijūyonshi?, lit. Twenty-four Messengers) are magical beings sent by Astrals—the gods of Eos—to help the Oracle and make the gods' will known to mankind through her in Final Fantasy XV. While there are said to be twenty-four Messengers, five are witnessed in the game and a sixth is mentioned in Final Fantasy XV -The Dawn of the Future-.
Being one of the Oracle's twenty-four Messengers has its perks, circumventing time-space notwithstanding.

Ignis Scientia in Final Fantasy XV: Pocket Edition in reference to Umbra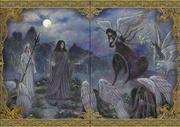 The Hexatheon and Their Divine Host chapter of Cosmogony posits that in the beginning the Astrals fought side by side with mankind yet the deities themselves seldom appeared before mortals. Instead, they sent servants to convey their divine will to the Oracle, a human the Astrals had given the power to commune with the gods. These servants are known as Messengers. This Cosmogony chapter further posits that the Messengers "number twenty-four", implying the number is static.
The Messengers are magical and thus don't appear to age. They can travel anywhere regardless of geography and even time. Though divine in origin, they commonly manifest as earthly beings and thus remain inconspicuous. Some Archives entries speak of Messengers having fought daemons, but they are not witnessed doing so directly in Final Fantasy XV.
The three Messengers that support Lunafreya Nox Fleuret stay by her and help her guide Noctis Lucis Caelum to fulfill the prophecy of the True King. One Messenger acts as a "guardian spirit" to Noctis himself. One Messenger was defeated by the Astrals and sent into a long slumber.

The Messengers
Edit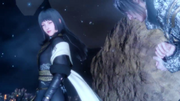 Gentiana is the High Messenger. She is a mysterious, dark-haired and ageless woman who moved into Fenestala Manor to live with the Oracles' bloodline. Gentiana is gentle and has an ethereal presence, often keeping her eyes closed even when moving or conversing with others. She guides Lunafreya to fulfill her destiny as the guide to the Chosen King.

Lunafreya's dogs
Edit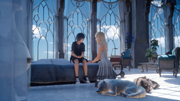 Umbra and Pryna are Lunafreya's canine companions who serve as delivery dogs, relaying messages between Lunafreya and Noctis. They manifest themselves as a pair of white and black dogs yet boast mystical powers.

Carbuncle
Edit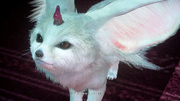 Carbuncle is a supernatural guardian being who is described as a Messenger in the car decals flavor text. Rather than being linked to the Oracle, it is associated with Prince Noctis.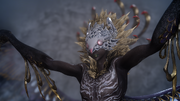 Garuda is a Messenger of the Winds, an ancient being once defeated by the Astrals in battle and sent into long slumber. Her true name lost, she takes the name of an invading goddess and aids Noctis in a similar way to the Astrals. She appears in the Adventurer from Another World collaboration quest added in patch 1.27.

In Final Fantasy XV -The Dawn of the Future- Lunafreya and her new friend Sol find a massive sword and a spear in an ancient Solheimian ruin that Lunafreya thinks belong to Odin, one of the twenty-four Messengers, which were use in the War of the Astrals. A being that could be Odin also appears in the Big Bang artwork for the game of an armored horseman and his steed.

Due to their nature the Messengers likely allude to angels—non-physical entities or spirits found in various religions and mythologies. In Abrahamic religions and Zoroastrianism, angels are often depicted as benevolent celestial beings who act as intermediaries between God or Heaven and Earth, or as guardian spirits or a guiding influence. Other roles of angels include protecting and guiding human beings, and carrying out God's tasks. The term "angel" has also been expanded to various notions of spirits found in many other religious traditions. In art, angels are often depicted with bird-like wings, a halo, robes and various forms of glowing light. In Final Fantasy XV the Messengers appear with angel wings in Cosmogony (Garuda appearing with physical wings in Adventurer from Another World), and are divine messengers and guides to mankind to fulfill the prophecy of the True King.
References
Edit
Community content is available under
CC-BY-SA
unless otherwise noted.