The following entails the contents of the main menu in Final Fantasy XII.
The menu can be accessed at all times while on the field, and thus also during battles. This leads to the player being able to use the menu in unique ways to gain an advantage. One can enter the menu while battling enemies and change equipment on the fly, thus it is possible to change to equipment that protects against a certain attack when the player sees the enemy charging for that attack.
Exploiting the Horology Technick is easy with entering the menu during its charge time and waiting till the second digit of minutes reaches nine, so that Horology's potency will be at its peak. The player can also ride chocobos infinitely if they enter the menu and change the party's equipment whenever the timer is just about to run out; this will give a tiny amount of more time to the chocobo timer.
Because the menu can be opened during battles, the player cannot use items and magick from the menu like in other Final Fantasy games.
Party
[
]
Status
[
]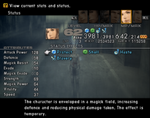 Equip
[
]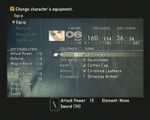 Licenses
[
]
Gambits
[
]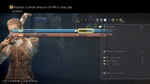 World Map
[
]
Inventory
[
]
Key Items
[
]
Loot
[
]
Abilities
[
]
Items
[
]
Weapons
[
]
Ammunition
[
]
Armor
[
]
Accessories
[
]
Clan Primer
[
]
Config
[
]
Gallery
[
]