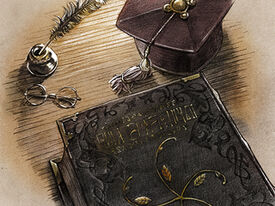 "Memoro de la Ŝtono" (lit. "Memory of the Stone") is a vocal section part of the Final Fantasy XI opening theme made famous by its performance during the Distant Worlds: Music from Final Fantasy and VOICES: Music from Final Fantasy concerts. It features a choral arrangement with lyrics sung in Esperanto, an artificial language invented in 1887 by L. L. Zamenhof (1859–1917), a Polish physician and philologist, intended for international use and still used by millions of speakers worldwide.
The tracks "Despair" and "Repression" in the original soundtrack and the track "Third Ode: Memoro de la Ŝtono" in the Chains of Promathia soundtrack share their central melody with "Memoro de la Ŝtono".
Both live performances were conducted by Arnie Roth and were played as a medley along with the song "Distant Worlds".

Esperanto

Edit

Fluas nun sango senkulpa
Sur Vana'diel, vasta ter'
Tremas la tuta mond'
Pro l' plago en desper'

Preventas ĝin
Nenia sort'
Haltigas ĝin
Nenia fort'

Sed tra la nokto tempesta
Brilas jen stelo de glor'!
Kontraŭ brutala kri'
Fontas jen kant-sonor'!

Stelo brilanta, kanto sonanta:
Revo kaj preĝo por ni!

Vana'diel! Vana'diel!

Mano kaj man' kunpremitaj
Trans la eterno sen lim'
Ne dismetiĝos plu
Ne disligiĝos plu!

English translation

Edit

Now flows innocent blood
On Vana'diel, a vast land
The entire world trembles
In despair from the scourge

Prevented
By no fate
Stopped
By no strength

But through the stormy night
Behold: a star of glory shines!
Against a brutal outcry
Behold: a hymn springs forth!

A shining star, a ringing song:
A dream and a prayer for us!

Vana'diel! Vana'diel!

Hand and hand together
Across the limitless eternity
We will no longer be put asunder
We will no longer be separated!
Community content is available under
CC-BY-SA
unless otherwise noted.