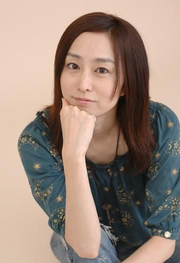 Megumi Toyoguchi (豊口 めぐみ, Toyoguchi Megumi?), (born January 2, 1978) is a Japanese voice actress represented by the talent firm 81 Produce. She voices Elena from Final Fantasy VII: Advent Children, Paine and Taro from Final Fantasy X-2 and Qun'mi Tru'e from Final Fantasy Type-0 and Final Fantasy Agito.
Roles
[
]
Voice acting
[
]
Related games
[
]
Kingdom Hearts II - Paine
Kingdom Hearts Birth by Sleep - Aqua
Music
[
]
Toyoguchi sings a vocal version of "Paine's Theme" titled "Nemuru Omoi..." (lit. "Sleeping Thoughts"). The song is included in the single Final Fantasy X-2: Vocal Collection - Paine.

Biography
[
]
Toyoguchi was born on born January 2, 1978 in Machida, Tokyo, Japan. In elementary school until high school, she was very interested in anime such as Dragonball. She became a fan of Tōru Furuya, the voice actor for Yamcha. In her second year of junior high school, she started to think it might be interesting to be a voice actor.
She became active in voice acting in 1998, when she was twenty years old. It was that year when she did the voice of Alice in Alice SOS. She was also Aqua and Paine in Kingdom Hearts.
Very recently, she is voicing communications officer Mihiro Oiwakken in Mobile Suit Gundam Unicorn, airing 2014.
Also very recently, she was Elena in Final Fantasy VII: Advent Children, and Klan Klang in Macross Frontier. She was also two characters in Danganronpa 3: The End of Hope's Peak High School: Despair Arc, is she is Tomoko Higashikata in JoJo's Bizarre Adventure: Diamond Is Unbreakable. She is Pyrrha Nikos in RWBY for the Japanese dub.
In 2016, Anime-Now.com named her a Top Five Voice Actor of that year, and they said that "her energy and emotions make the characters who they are."
Background
[
]
She is best known for providing voice for Hikari (Dawn in English dub) in Pokémon (anime) series and Riruka Dokugamine in Bleach.
External links
[
]