Hits all enemies with a nuclear blast.
Megaflare (メガフレア, Megafurea?), also known as Mega Flare, Sun Flare and MegaNuke, is a recurring attack in the series. It is normally a very damaging move used by the summon Bahamut. It is an upgraded version of the spell Flare, and deals heavy non-elemental magic damage to all targets. Megaflare sometimes has an even more powerful version called Gigaflare, and occasionally Bahamut is able to use other versions of Megaflare with different prefixes.
A recurring feature when facing Bahamut as an enemy is that there is often a five-turn countdown preceding Megaflare.
Appearances
[
]
While an Evoker, Sage, and Summoner can all summon Bahamut, only the Summoner and Sage can prompt the Dragon King to unleash the Mega Flare attack. The Sage does not have this ability in the 3D version.
During the Bahamut battle, Bahamut may use the Mega Flare ability.
The superboss Brachioraidos borrows a page from Bahamut by using a countdown Megaflare attack. The dragons Dark Bahamut and Lunar Bahamut, as well as the normal Bahamut, also cast the spell. Megaflare's spell power tends to be so high that casting Reflect, or being at very high level, are the only ways to survive. In the 3D versions, guarding and/or the Phoenix Augment work as well.
In the original North American Super NES release, the attack was named MegaNuke, as the normal Flare spell was known as Nuke. This was renamed as Mega Flare in the PlayStation, Game Boy Advance, and Nintendo DS releases, and Megaflare in The Complete Collection.
Megaflare is Bahamut's attack when summoned and deals massive non-elemental damage to all enemies.
Megaflare is Bahamut's signature attack as a summon and as an enemy. Attempting to guard against it with Reflect during the battle with Bahamut, will be countered by the Mysterious Girl casting Black Hole to eliminate Reflect just prior to Bahamut using Mega Flare.
Megaflare is Bahamut's signature attack (MegFlare in Anthology), used as his summon attack. Mega Flare can also be used by Bahamut when fought upon North Mountain.
The boss Twintania is fond of retaliating with Mega Flare after being struck with a magical attack. The party can also catch the Prototype to use Mega Flare.
Bahamut casts Mega Flare (originally called as Sun Flare) when summoned. Setzer can also call Bahamut to use Mega Flare by getting three Dragons on his Slot.
The summon Bahamut uses Mega Flare. Its alternate versions, Neo Bahamut and Bahamut ZERO, use upgraded versions named Giga Flare and Tera Flare respectively.
The Bahamut summon uses Megaflare, and during the battles against it, the dragon may use Megaflare against Zack.
Megaflare is a level 8 Independent Materia that boosts the chance of Bahamut appearing on the DMW. It begins at 5x, and increases by 1x each level up to 9x. It is a reward for Mission 9-5-6 and can be bought from Bone Village Commerce.

Megaflare is an attack used by Bahamut both as a boss and as a summon for the player.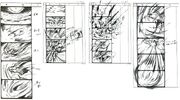 Dark Flare, an upgraded version of Bahamut's Mega Flare, is used by the boss Tiamat who in itself resembles Bahamut greatly. Bahamut can use Mega Flare during the battle against it and is its summon attack when summoned as a Guardian Force. When used as a summon, Mega Flare ignores enemy Spr.
Bahamut's summon time is 22.1s, which, according to the Final Fantasy VIII Ultimania, allows the player to boost its damage to around 230% of normal damage using a regular PlayStation controller.
Formulas for damage:[1]
Mega Flare is Bahamut's summon attack. It inflicts heavy non-elemental damage to all enemies, and is powered up the more Garnets the player has in possession (see here for damage formulae). It has two versions, short and long, with the long one being more powerful. With the Boost support ability the player can always summon the long version, unless used as a counterattack as part of Dagger's Trance.
It also appears in an FMV when Kuja summons Bahamut at the Iifa Tree.
Deals non-elemental damage to all enemies.

Description
The aeon Bahamut's Overdrive is Mega Flare. Mega Flare is also used by the bosses Spathi, Belgemine's Bahamut and Dark Bahamut. Mega Flare can break the damage limit without customizing it with a sigil. Dark Bahamut's Mega Flare deals between 40,070 to 45,246 damage that can only be reduced by an aeon's Shield. It also removes all beneficial status effects except for Auto-Life, and inflicts strong Delay.
During the battle with Bahamut, Bahamut will use Mega Flare after a countdown. Though the attack is rather weak, taking off only a few hundred HP on all party members.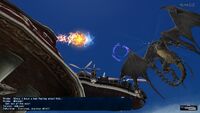 Megaflare is an enemy ability used by Bahamut each time he loses 10% of his HP. The attack deals heavy fire-elemental damage to enemies within a fan-shaped area.
Bahamut also uses Megaflare during the "One to be Feared" story mission of Chains of Promathia after being angered by the Adventurer's words. The attack is deflected by Tzen using Phoenix's power.

Megaflare is a powerful enemy magick attack. It is used by The Undying.
Mega Flare is an ability used by Bahamut when summoned. It deals heavy non-elemental damage and inflicts Disable to all enemies in range.
Megaflare is Bahamut's Gestalt Mode finisher move.
Its power depends on the attack's level and will raise the chain bonus by an amount based on the level:
Level 1: 33.00 * 1 + 29.00 * 2 = 91.00[2]
Level 1: 33.00 * 2 + 29.00 * 3 = 153.00
Level 1: 33.00 * 3 + 29.00 * 4 = 215.00
Chaos Bahamut uses Megaflare during the battles against him. Jet Bahamut uses Teraflare after a countdown from three, if at least one Bahamut, Garnet or Amber, is present, or Exaflare if both are present, otherwise he will use Gigaflare.
Caius will do an incarnate summon, converting himself into Chaos Bahamut to cast Megaflare each time after changing to Commando role. This sometimes does not apply for the Ark rematch.
Megaflare is a

PvP-exclusive limit break available to
Summoners. It is performed by Demi-Bahamut when called by
Summon Bahamut, dealing heavy damage is a large area of effect where Demi-Bahamut was summoned.
Megaflare is also a recurring enemy ability, used by enemies such as Nael deus Darnus and Bahamut Prime. Its effects vary between users and appearances.
A Megaflare emote can also be purchased from the Mogstation, launching bolts of energy from their body, though it is only just for show and does nothing.
Though not named, Bahamut uses a strong beam attack to destroy the Wall around Citadel in the Windows and Royal Editions. His normal attack is Ultima Sword, where he shoots swords made out of light.

When summoned, Bahamut uses Mega Flare. It costs 60 MP to summon, and has an area of effect of 4, vertical 3.
The Dark King uses Mega Flare as one of his strongest attacks, it has an attack power of 125. The other being Mega White.
Mega Flare is an attack used by Bahamut, either to attack the party during the battle to obtain the Eidolon or to damage multiple foes after the Eidolon has been vanquished. It costs 78 MP to use and may take a bit long to cast, but it deals massive non-elemental damage to all enemies.
The ability can also be used to learn two great Fusion Abilities: Gigaflare and Mega Raise.
Megaflare is Bahamut's summon attack that deals non-elemental damage to all enemies and costs 3 points from the Consumption Gauge to use.
In addition, Megaflare is an enemy ability for Chaos Bahamut. He automatically uses ability at the end of his five turn countdown and will end the battle when he finally uses it on the party.
Burn everything in sight!

Yuna
Yuna can summon Bahamut to perform Mega Flare as an HP attack. It fires a long, powerful beam of energy at the opponent. It costs 30 CP to equip and needs 150 AP to master.
Mega Flare is Bahamut's signature attack and is used when it is summoned in battle stages.
Megaflare is used by Bahamut when he is summoned during Battle Music Sequences (BMS).
Megaflare is the ability that Bahamut uses when summoned by the Summoner during battle.
Mega Flare is Bahamut's signature ability. Explorers have the ability to use it as a Trance Surge after acquiring Bahamut's Magicite.
Megaflare is an active magic ability that inflicts neutral magical damage on all targets for 4 AP. Its power increases as the user's HP and AP decrease. It can be used by Bahamut★.
It is also an enemy ability used by Bahamut.
Bahamut's special attack is called MEGAFLARE.
Non-Final Fantasy guest appearances

[

]
Mega Flare is an ability used by Django. It is done by pressing the Special button.
Mega Flare appears in Chain of Memories and Re:Chain of Memories as a Sleight, in Birth by Sleep and Dream Drop Distance as a Magic command, and in Re:coded as a combo finisher. It creates a massive firestorm over a large area to do heavy damage to all enemies, and is considered one of the strongest attacks available in the games it appears in.
The World Ends With You

[

]
Mega Flare appears as a given name to the attack performed by the pin "Tin Pin Bahamut". The Pin is a reference to Bahamut, whose signature attack is Mega Flare and one of whose titles is the Wyrmking.
Xenogears

[

]
Vendetta an Omnigear piloted by Kahran Ramsus has the Mega Flare ability as his signature move during the execution of Blaze Rose. He demonstrates this ability to destroy Weltall and also severely injures both Fei and Elly inside the Gear at the end of Disc 1. In disc 2, he also uses this ability to fight Fei's new Gear Weltall-2 in a one on one duel that leads Ramsus to retreat after being overpowered by Fei.
Super Smash Bros. Ultimate

[

]
Megaflare appears as Sephiroth's Neutral B attack when his Flare is charged to its second stage, firing a slow moving small projectile that explodes with a large radius and deals a large amount of damage.
Gallery
[
]
Etymology
[
]
A megaflare is a very large solar flare.
A sun flare is another name for solar flare, it is a sudden flash of brightness observed near the Sun's surface. It involves a very broad spectrum of emissions, requiring an energy release of typically 1 × 1020 joules of energy, but they can emit up to 1 × 1025 joules (the latter is roughly the equivalent of 1 billion megatons of TNT, or over 400 times more energy than released from the impact of Comet Shoemaker–Levy 9 with Jupiter).
[view · edit · purge]A flare is a pyrotechnical phenomenon that produces intense amounts of heat and energy that does not result in an explosion (an immediate release of energy).
References
[
]