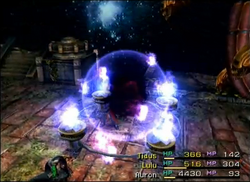 Mega Death (オーバーデスŌbā Desu, Overdeath?) is a recurring ability in the Final Fantasy series. It is an ability used exclusively by Yunalesca, being a more powerful version of the Death spell, used against the party with a 100% accuracy.
Appearances
Mega Death is an enemy ability used by Yunalesca, which inflicts Instant Death to the party at a 100% rate unless under Zombie.
Gallery
Etymology
Megadeath is a term for one million human deaths, usually caused by a nuclear explosion. The term was used by scientists and thinkers who strategized likely outcomes of all-out nuclear warfare.
[view · edit · purge]Mega is a unit prefix in the metric system denoting a factor of one million (106 or 1,000,000). It has the symbol M.