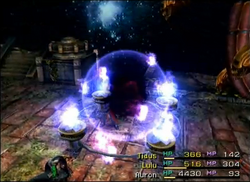 Mega Death (オーバーデスŌbā Desu, Overdeath?) is a recurring ability in the Final Fantasy series. It is an ability used exclusively by Yunalesca, being a more powerful version of the Death spell, used against the party with a 100% accuracy.
Appearances
Edit
Mega Death is an enemy ability used by Yunalesca, which inflicts Instant Death to the party at a 100% rate unless under Zombie or if a character is equipped with armor that has Deathproof.
Mega Death
appears as an enemy ability in the raid dungeon
Weeping City of Mhach
. Used by
Forgall
,
Mega Death
inflicts
Instant Death
raid-wide to all members of the expedition. To avoid
Instant Death
, a character must be under the effect of
Gradual Petrification
, obtained by getting hit (intentionally) by one green floating bubble summoned by
Evil Mist
.
Gradual Petrification
is harmless to the player until two or more stacks are applied, at which point the player turns completely
zombified
and begin attacking other players. It is thus in the player's interest to discern the radii of the various bubbles and try to get hit by one but no more when they simultaneously explode.
Etymology
Edit
Megadeath is a term for one million human deaths, usually caused by a nuclear explosion. The term was used by scientists and thinkers who strategized likely outcomes of all-out nuclear warfare.
[view · edit · purge]Mega is a unit prefix in the metric system denoting a factor of one million (106 or 1,000,000). It has the symbol M.
Community content is available under
CC-BY-SA
unless otherwise noted.