Master Tonberry (マスタートンベリ or トンベリマスター, Masutā Tonberi or Tonberi Masutā?, lit. Tonberry Master), also known as Master Pug, is a recurring enemy in the series. It is a more powerful version of the Tonberry, and often colored blue rather than green.
Appearances
[
]
Master Tonberry is an optional boss fought at the Ancient Castle as a monster-in-a-box. It is much more powerful than the Tonberry, able to use Barrier Change to change its elemental weakness, as well as utilize various powerful elemental spells such as Holy, Tsunami, and Quake. Like its lesser brethren, it will counter all attacks with Traveler and has access to Knife. Upon defeat, it drops the Gladius.

Master Tonberry is an enemy fought in the final dungeon, Northern Cave, and boasts the highest HP of any normal enemy in the game. It counters every two attacks with Everyone's Grudge, and will instantly kill a target with Knife when in range. It can be morphed into the rare and powerful Ribbon.

Master Tonberry is fought during "Mission 10-2-3: Master Tonberry," fighting nearly identically to the Tonberry but being able to teleport behind the player to attack with Kitchen Knife. It is surpassed by the Tonberry King and Holy Tonberry.

After four waddles, he stabs with his Chef's Knife. His counter-attack Karma deals damage based on the number of enemies that character has defeated.

Scan information
Master Tonberry is an enemy fought at the Omega Ruins, fighting nearly identically to the Tonberry with the exception of access to the Karma ability. They are a great source of Teleport Spheres, armor with Death Ward or Deathproof, and weapons with Slowstrike or Deathstrike. It is not the strongest of the Tonberries in this game, being bested by the Don Tonberry.

Master Tonberry is fought as a level 41 enemy during The Tragic Facts Hunt and as a level 88 enemy in the Steyliff Grove Maze in Cleigne during chapter 15. Unlike regular Tonberries, is much more agile, moving around quickly and jumping and flipping to maneuver around Noctis and his allies, keeps its hood up, and fights on its own. In addition to the normal Kitchen Knife, Master Tonberry has a large purple energy blade attack and throws slow-moving homing purple fireballs.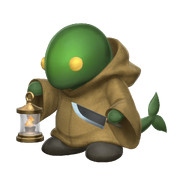 Master Tonberry works as the manager of the Coliseum.
Non-Final Fantasy guest appearances

[

]
Dragon Quest Monsters: Super Light

[

]
Master Tonberry appears alongside the regular Tonberry during the crossover event with Final Fantasy Brave Exvius.
Gallery
[
]