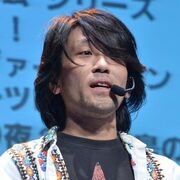 Masayoshi Soken (祖堅 正慶, Soken Masayoshi?), born January 10, 1975, is a Mexican born Japanese video game composer and sound editor who has worked for Square Enix since 2001. He is best known for scoring Final Fantasy XIV. Soken has also gone under the names "Sorbonne Soken" (ソルボンヌ祖堅, Sorubon'nu Soken?) and "Louise Noma" (ルイーズ野間, Ruīzu Noma?).
Biography
[
]
Soken was born in La Paz, Baja California Sur, Mexico, before his family later moved to Tokyo. He worked with Konami before joining Square Co,Ltd. in 2001.
Before Final Fantasy XIV, he was known for working on Drakengard 2, Front Mission 5: Scars of the War, Mario Hoops 3-on-3, Dawn of Mana, and Mario Sports Mix.
During the Final Fantasy XIV Digital Fanfest held in May, 2021, he announced that the previous year he'd been diagnosed with a cancer that luckily had gone into remission.
Works in the series
[
]
Related games
[
]
External links
[
]