Mario Hoops 3-on-3, also known as Mario Slam Basketball, is a sports game in the Mario series developed by Square Enix. It features numerous Mario characters and Final Fantasy icons playing basketball. The game was the second Mario series game to be developed by Square Enix, the first being Super Mario RPG: Legend of the Seven Stars.
A follow-up, Mario Sports Mix, was released for the Wii in 2011 and features basketball alongside various other sports.
Gameplay
[
]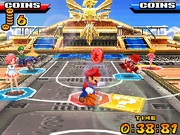 The game features two main modes: Tourney and Exhibition. In Tourney mode, the player must select a team of three players and win three games in a row against teams of AI characters. By simply winning all three games, the player is awarded the bronze cup. Silver and gold cups can be earned by scoring 100 or 200 points cumulatively during the tournament. In Exhibition mode, the player can play a single game against AI opponents, with customisable options such as the amount of play time and what items can be used.
The gameplay is based around the real-world sport of basketball, with a few twists. Regular shots are worth 20 points, long shots are worth 30 points and each character has their own special shot worth 40 points. While on offense, players can also collect coins by dribbling the ball on floor panels, which will increase how many points each shot is worth. While on defense, touching floor panels will instead produce an item that can be used to help gain possession of the ball. Special shots can be performed by drawing character-specific symbols on the touch screen.
The game also features local multiplayer, but this is limited to minigames.
Characters
[
]
Starting characters
[
]
Unlockable characters
[
]
Connections to the Final Fantasy series

[

]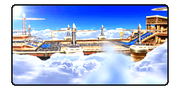 The final tourney in the game concludes with a match on the Rainbow Ship court, where the player must play against Ninja, White Mage and Black Mage. Finishing the tourney with a gold medal will unlock Black Mage as a playable character, and silver and bronze will unlock White Mage and Ninja respectively. Finishing the tourney on hard mode will unlock alternate costumes for the aforementioned characters.
Cactuar can be unlocked by playing the Glare Desert in exhibition mode. During the game, a green lump will appear in the ground. If the player dribbles the ball multiple times on the lump, Cactuar will emerge from the ground and run away. At the end of the match, Cactuar will be unlocked as a playable character. Cactuars can also be seen as spectators in the Glare Desert court and in the game's credits.
Moogle can be unlocked by completing the Star Tourney with a silver trophy.
Malboros are featured at both nets of the Malboro Garden court, a secret court featured in the Flower Tourney.
Trivia
[
]
Gallery
[
]
External links
[
]