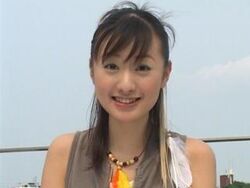 Marika Matsumoto (松本 まりか, Matsumoto Marika, born September 12, 1984) is a Japanese actress.
She voices Rikku in the Japanese version of Final Fantasy X and its sequels.
Roles
[
]
Voice acting
[
]
Related games
[
]
Kingdom Hearts II - Rikku
Music
[
]
Matsumoto sings the vocal version of "Rikku's Theme" titled "Hadashi no Kiseki" (lit. "Barefoot Miracle"). The song is included in the single Final Fantasy X-2: Vocal Collection - Rikku.

Background
[
]
From 2001-2003, she was known as "Mini Stop-chan", acting as the mascot for the Mini Stop convenience store chain commercials in Japan. She is the owner of a unique voice and has held a recital with upcoming star Satoshi Tsumabuki. Since November 12, 2005, she has been on the A&G Radio Show: Anisupa! segment Anisupa Kōnin Akujo Queen. She voices Diancie in Pokemon.
External links
[
]