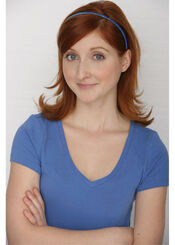 Marieve Herington (born February 22, 1988) is an Canadian-American actress, voice actress and singer.
She is also known for her roles as Celestia Ludenberg in the Daganronpa games, Honoka Kosaka in Love Live! School Idol Project, Tatsumaki/Tornado of Terror in One Punch Man,*(season one and OVA), Betty in How I Met Your Mother and Winnie in Good Luck Charlie.
Lua error in package.lua at line 80: module 'Dev:NavboxBuilder' not found.
Community content is available under
CC-BY-SA
unless otherwise noted.