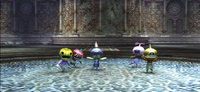 The Mandragoras (マンドラーズ, Mandorāzu?, lit. Mandrars) are a group of bosses from Final Fantasy XII. They are fought in the Sochen Cave Palace and later appear as normal enemies. Together, they are the Alraune King (the apparent leader of the group), Mandragora Prince, Onion Queen, Topstalk, and Pumpkin Star.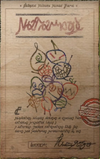 The Mandragoras are petitioned by an Archadian noble as an unofficial Hunt, but every aspiring hunter he hires fails to defeat them. The party finds his son on the Tchita Uplands and gives them the hunt, though admits he knows not what the "menace" in the Sochen Cave Palace is, as no one who lays eyes on them will speak of them. The player must accept this hunt to progress, as the boy holds the key to get through the palace and will not give it up until the hunt is accepted.
When the Mandragoras are defeated, the party can join the Rare Game hunt club on Phon Coast after the storyline events in Archades.
Other Appearances
Edit
The Mandragoras are fought in Final Fantasy XIV in the FATE "The Mandragoras" in Western La Noscea. The FATE can only be activated by players on the "Seeds of Rebellion" quest, part of the Hildibrand Manderville questline, by talking to Hildibrand during the appropriate stage of the quest. As such, it is a fairly rare occurrence, as most players have already completed the quest, which was released in patch 2.3.
The Mandragoras Frypan tool is a reference to the Mandragoras, having the five Mandragoras in a circle.

The Mandragoras appear in Theatrhythm as an enemy, collectively treated as one entity.

The Mandragoras are fought as bosses in some Final Fantasy XII events, and as one of the bosses in the Crushdown Nightmare Dungeon.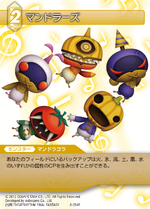 The Mandragoras from their Theatrhythm appearance feature on the Chapter 8-054R card.

Etymology
Edit
[view · edit · purge]Mandragora is a plant belonging to the nightshade family. According to legends surrounding witchcraft, when mandragoras (Mandrake plants) are uprooted, they emit a piercing scream which kills all who hear it.
Related enemies
Edit
Community content is available under
CC-BY-SA
unless otherwise noted.