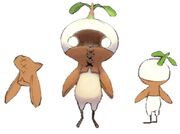 Mandragora (マンドラゴラ, Mandoragora?) is a recurring enemy in the Final Fantasy series that has appeared as a summon, and is always plant-like in appearance. They've been appearing since Final Fantasy VII, though their recurring charismatic appearance originated in Final Fantasy XI. The Mandragoras' sizes range from relatively diminutive to gigantic depending on the game.
Appearances
[
]
Mandragoras can be fought outside of the Chocobo Farm and are weak monsters to fight. They are of no threat to the party.


The Mandragora enemies take the same appearance as the ones from Final Fantasy VII. They usually appear in swarms but can easily be dispatched in a few attacks.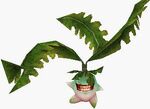 Mandragoras can be fought in a forest near Quan's Dwelling. They are rather powerful enemies that can easily knock out an underleveled party with their Chestnut special attack, which deals damage equal to the amount of damage the Mandragora has taken. Aside from that, they aren't too much of a threat.


A member of the Ochu family, Mandragoras are fought outside of the Zanarkand Dome and are relatively powerful foes to fight. They have access to the powerful Earthquake ability, and its Ochu Dance can inflict Confuse, Darkness, Slow, and Silence on all characters. Its physical attack can also inflicts Poison on each hit.


Mandragora are a plantoid enemy, and a familiar sight on Mindartia and Elshimo Island. Most of them are white with a green leaf on their head, but there are a few malicious ones colored black with an autumn red leaf on their head. A third type, the Lycopodium, have a flower instead of a leaf, and have been seen on the war-torn battlefields during the Crystal War.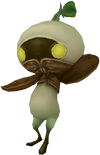 The Mandragora is a class of enemies commonly found throughout the world of Ivalice, as well as a separate enemy.
Enemies that are of the Mandragora class are:
The enigmatic mandragora were first observed in the aftermath of the Seventh Umbral Era. It is not known whence they came, or if they even existed prior to the Calamity. There are those who insist that the diminutive seedkin are sentient, but further research is required to confirm such speculation.

Official website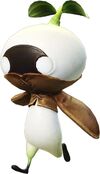 Mandragora appear in Eorzea with the same appearance as Final Fantasy XI and Final Fantasy XII. They were introduced in A Realm Reborn. A mandragora minion known as the "Kidragora" is available to adventurers, as well as many other minions from the mandragora family.
In one of the sub quests involving Hildibrand Manderville, the Mandragora royals appear when the thief of many faces recruits them to crash the wedding reception of Arella so he can steal her necklace. However, the sight of Hildibrand making kissy faces while in a bridal dress scares the Mandragoras away with Onion Prince apparently killed off when one of the thief's calling cards, revealed to be a decoy, got lodged in her head.


Plant-type monsters with buds sprouting from their heads.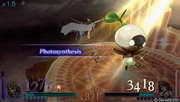 The Mandragora appears as a summon. When summoned, it shows an artwork of its Final Fantasy XII and Final Fantasy XI appearances, and during a certain period of time, rapidly returns the summoner's base Bravery value to the minimal value it may reach should it fall below that value. Mandragora can be obtained as a Stage Bonus on the Destiny Odyssey I storyline.
It returns in Dissidia 012 Final Fantasy as a summon with the same functions, but now must be purchased from from certain Moogle Shops for 20 KP.
The invasive mandragoras lay waste to fields. Pesticides were once used against them, due to their plant-like biology, but they learned to use their tentacles as a protective mask against the lethal effects.

Mandragoras' CollectaCard

The Mandragora Royalty bosses from Final Fantasy XII appears as enemies. Another Mandragora can be spotted in the background of the Sarutabaruta Field Music Sequences.

The Mandragora royals appear as enemies in Battle Music Sequences.
The Mandragoras appear as an enemy during an event called "Showdown". In battle, the Mandragoras use Ram.

Cards
[
]
Mandragora
#135
★★★
Green
Defend
Attack
None
None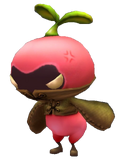 Mandragora from Final Fantasy XIV appears with an earth-elemental card.

Mandragora from Final Fantasy XI and Final Fantasy XIV have Triple Triad cards in Final Fantasy Portal App.
Other appearances
[
]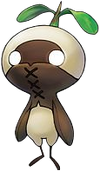 The Mandragora appears as an enemy.
Mandragoras, along with Cactuars, appeared as monsters during the Final Fantasy-Dragon Quest crossover events in Dragon Quest X.
In Kingdom Hearts II, a special Gummi Ship bluprint called Mandragora can be obtained by receiving an S-Rank in the Floating Island (Mission 2). It costs 1015 munny and requires 102x Material-G, Gravity-G, Drain-G, 2x Neon Orb-G blocks.

In Bravely Default, the Mandragora is a plant-type enemy fought in the Eternia Region (Day) and passages to Eternian Central Command. Its Poison Pollen ability damages the entire party and can inflict Poison. They appear in large groups.
They also appear in Bravely Archive and Bravely Second: End Layer.
Other media
[
]
Square Enix's Eorzea Cafe served a dish called "Sandwich of bagel like Mandragora" with a description that translates to: A Mandragora recreated with a bagel. Please enjoy this dish with some black tea.
Etymology
[
]
[view · edit · purge]Mandragora is a plant belonging to the nightshade family. According to legends surrounding witchcraft, when mandragoras (Mandrake plants) are uprooted, they emit a piercing scream which kills all who hear it.