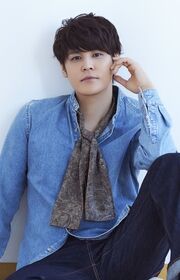 Mamoru Miyano (宮野 真守, Miyano Mamoru, born June 8, 1983) is a Japanese actor, voice actor and singer from Saitama Prefecture.
He voices Ignis Scientia from the Final Fantasy XV series.
Roles
[
]
Related Square Enix projects
[
]
Biography
[
]
Miyano started his acting career in 1990 and provides the voice of Riku in the Japanese version of the PlayStation 2 video game Kingdom Hearts. He then voiced Kiba, the main character of anime series Wolf's Rain. He returned as the voice for Riku in the 2004 Game Boy Advance game Kingdom Hearts: Chain of Memories, as well as Kingdom Hearts II in 2005, and in Kingdom Hearts Re:Chain of Memories in 2007.
In 2006, Miyano voiced Light Yagami for the anime version of the manga Death Note. In 2007, for his role as Light Yagami, he was nominated for two awards at the first Seiyu Awards: "Best Lead Actor Award" and "Best New Actor Awards". Also in 2007, Miyano went on to provide the voice of Setsuna F Seiei, the main character of Mobile Suit Gundam 00. He won his first award, "Best Voice Actor", at the 2008 Tokyo International Anime Fair for his portrayal of Light Yagami and Setsuna F Seiei. In 2008, Miyano took on the role as Setsuna F Seiei again for the second season of Mobile Suit Gundam 00. He won his first Seiyu award for the roles of Setsuna F Seiei and of Hakugen Rikuson in Kōtetsu Sangokushi. He has also voiced Zero Kiryu and Ichiru Kiryu from the series Vampire Knight and Vampire Knight Guilty, as well as Death The Kid in the anime Soul Eater. He also provided the voice of Tamaki Suoh in the anime version of Ouran High School Host Club, Okabe Rintarō from Steins;Gate, Ling Yao from Fullmetal Alchemist Brotherhood, Oda Nobunaga from Nobunaga the Fool, and Rin Matsuoka from Free! Iwatobi Swim Club and Free! Eternal Summer.
In addition to voice acting, Miyano has also appeared on camera. His first acting job was in 1992 in Tokusou Exceedraft, where he appeared in a flashback as a child in a yakuza member's past. In 2003, Miyano joined the cast of The Prince of Tennis Musical playing Tetsu Ishida (石田 鉄 Ishida Tetsu). He made his film debut in 2006's The Prince of Tennis. He also made a guest appearance in the drama The Quiz Show in 2008.
In 2010, he began voicing Dent in the popular Pokémon anime series. In the same year he starred with fashion model and actress Ayumi Uehara and fellow voice actors Tomokazu Sugita, Tomokazu Seki, Rikiya Koyama, Yuka Hirata, Showtaro Morikubo and Yūko Kaida in the film, Wonderful World, directed by Daisuke Namikawa.
Another of his notable roles is a tokusatsu character named Ultraman Zero, the son of Ultraseven who first made his debut in the movie Mega Monster Battle: Ultra Galaxy Legend The Movie before starring in subsequent movies Ultraman Zero: The Revenge of Belial and Ultraman Saga. Lacking a series of his own, Zero continued to appear as the main host of Ultraman Retsuden/Shin Ultraman Retsuden and in subsequent Ultra Series entries, with the recent being Ultraman Zero: The Chronicle in 2017. This role is taken further when he participated in the 2011 theatrical play Ultraman Premier in Tokyo, where he portrayed Shin Moroboshi, the human guise of Ultraman Zero. In July 10, 2016, he is one of the performers to appear in "Ultraman Day", a festival that celebrated the 50th anniversary of Ultra Series.
Background
[
]
He is best known for voicing Setsuna F Seiei (Soran Ibrahim) in Mobile Suit Gundam 00, Light Yagami from Death Note, Rin Matsuoka in Free! series, Gilthunder in Nanatsu No Taizai and Leo in Fire Emblem Fates. He also voiced Death The Kid from Soul Eater, Riku from Kingdom Hearts series and Masaomi Kida from Durarara!! series, all three projects being from Square Enix.
References
[
]