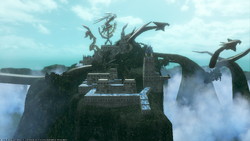 They say that the royal capital is a mythical city that floats atop a sea of wispy white clouds. It sounds like something straight out of a fairy tale!

Class Eight Cadet in Akademeia
Mahamayuri (王都マハマユリ, Ōto Mahamayuri?, lit. Imperial City of Mahamayuri) is the capital city of the Kingdom of Concordia in Final Fantasy Type-0. It is where the Azure Peristylium is located, housing the Azure Dragon Crystal. The queen's seat of power is also here.
Gallery
[
]
A lot of the artwork below is from the Final Fantasy Type-0 Kōshiki Settei Shiryōshū Aku no Hishi art book.
Etymology
[
]
[view · edit · purge]Mahamayuri (Sanskrit: महामायूरी, Mahāmāyūrī, literally translated to "great female peacock") is one of the Wisdom Kings in the Buddhist Pantheon. Mahamayuri is a peaceful personification, in contrast to the wrathful attitudes of male personifications of the Wisdom Kings. Mahamayuri had the power to protect devotees from poisoning, either physical or spiritual.

This section about a location in Final Fantasy Type-0 is empty or needs to be expanded. You can help the Final Fantasy Wiki by expanding it.