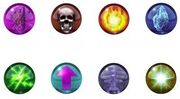 Magic Stones are a term used in Chocobo Racing to describe a gameplay element. Magic stones are pickups that racers can collect along the course, giving them unique abilities when activated.
Some of these magic stones are used to hinder the opposing racers, while others can enhance the performance of the user.
Overview
[
]
The standard goal is to reach the finish line first. However, this is not easy with Magic Stones scattered throughout the tracks. Each racer can hold a maximum of three magic stones. If a racer collects several magic stones of the same type, those stones will "level up". Magic Stones can be stolen by bumping on another racer from behind.
Magic stones will always appear in a line somewhere along the track. Three of them will feature question marks, and will give a random ability when collected. Magic stones replenish throughout the level, so by the time the player has made their way through the track, the magic stones will have appeared again.
Variants
[
]
Below is a list of Magic Stones used in the game:
Gallery
[
]