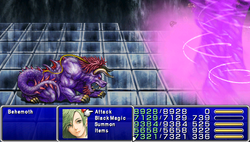 Maelstrom (ミールストーム, Mīrusutōmu?), also known as Storm or Charybdis, is a recurring spell and ability in the Final Fantasy series. It usually reduces the HP of several targets to single digits, and could be considered an upgraded form of Tornado.
Appearances
Maelstrom, translated as Storm in the SNES release, reduces the HP of the entire party to single digits. It is usually used by Barbariccia and several other enemies as a counter spell in this game, such as Behemoths.
On the Easy Type version, the enemy ability was renamed to Hurricane.
Maelstrom reduces the HP of all targets to single digits, and is used by several high-rank enemies: Bahamut, Famed Mimic Gogo, Grand Aevis, Jura Aevis and Archeoaevis, Landcrawler and Sandcrawler, Shinryu and Neo Shinryu, Omega and Omega Mk.II, and Neo Exdeath and Enuo. The player may utilize this ability by catching and releasing a Sandcrawler or Landcrawler.
Maelstrom is an ability used by the Garuda enemy. It reduces one party member to single digit health and ignores Reflect.
Called Charybdis (likely to avoid confusion with the Grand Company named Maelstrom), it is an ability used by Behemoth, King Behemoth, and Foeneus. The effect reduces the health of the anyone in range to single digits. The raid boss Alte Roite uses a more powerful version that hits all party members.
Script error Maelstrom is the level 2 Special Move of axes. It makes the character attack one enemy five times with 80% the power of a normal attack. In addition, all allies' Hit Count is raised by 35% for the duration of the special move music (approximately one and a half minutes). The condition to make this special move available for use is that 10 enemies must be defeated with physical attacks.
Script error Maelstrom is the level 2 offensive-type Special Move for axes. It allows a character to attack one enemy five times. For the duration of the music, the hit count of all allies is raised by 35%.
Script error
Maelstrom is the ability used by Barbariccia when summoned as a counter for an opponent's summon, and it swaps the combatants' Brave values.
Fall. No escape!

Exdeath using Maelstrom
Maelstrom is a new HP attack for Exdeath, with both ground and aerial versions. It has a large charging time but strikes enemies with a storm no matter their location. It costs 30 CP to equip and 130 AP to master.
Maelstrom also returns as Barbariccia's summon ability. It switches the user's Bravery to the opponent's Bravery when the opponent uses a summon.
Maelstrom is the enemy ability that is used by Barbariccia and Sandcrawler during battle.
Maelstrom is the special ability of Barbariccia's card. For the activation cost of discarding another Barbariccia card, a cost of four Wind CP, and Dulling Barbariccia, Barbariccia deals damage to each of the opponent's Forwards equal to their power minus 1000.
Other appearances
Gallery
Etymology
[view · edit · purge]A maelstrom is a powerful whirlpool; a large, swirling body of water.
Template:Blue Magic Template:Enemy abilities Template:Terrain
Community content is available under
CC-BY-SA
unless otherwise noted.