The Luminous Engine is the newest graphic engine developed by Square Enix. At E3 2012, Square Enix revealed Agni's Philosophy, a tech demo running with the engine.
At March 2018, Square Enix formed a subsidiary called Luminous Productions to have a team dedicated to developing games and media using the in-house graphical engine.
Luminous Studio 1.0
[
]
A demo of Luminous Studio was first shown in 2011.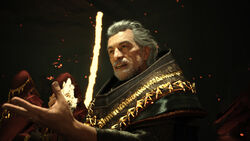 A full reveal was shown at E3 2012 in a video created by Square Enix' CG department titled Agni's Philosophy. The engine natively supports DirectX 11 and programmable shaders and was built to be future proof for use with the 8th generation of consoles while also supporting PC, Xbox 360, and PlayStation 3, and the developers were working on Wii, Wii U and Nintendo 3DS compatibility. The engine also incorporates Silicon Studio's Yebis post-processing effects middleware.
The Agni's Philosophy tech demo pushed 10 million polygons per scene, including 300,000 to 400,000 polygons per character. It also used 1.8 GB texture data per scene.[1]
Luminous Studio 1.5
[
]
Final Fantasy XV runs on Square Enix's Luminous Studio graphics engine. The Final Fantasy XV Episode Duscae demo uses version 1.5 while the final game uses version 2.0. Compared to the 20,000 polygons used for the Final Fantasy XIII characters, Final Fantasy XV uses 100,000 polygons for its characters. Overall, Final Fantasy XV uses 5 million polygons per frame, pushing 150 million polygons per second.[2] This is one of the highest polygon counts known for a video game.
Each character model uses 20,000 to 30,000 polygons just for the hair alone,[3], the same as the polygon count for an entire Final Fantasy XIII character. The game uses an advanced hair physics engine rendered using techniques such as tesselation, NURBS, and a new technique where a professional hair stylist creates the hairstyles in real life using mannequins which are then rendered for an in-game character model.
Each character has 600 bones, twelve times more than the 50 bones used by most PlayStation 3 and Xbox 360 games. Final Fantasy XV uses 30 MB textures for each character[4].
The engine uses a form of real-time global illumination,[5] specifically fast global illumination baking via ray-bundle tracing, an efficient lighting technique capable of a performance of 200 million rays per second on a GeForce GTX 580 graphics card.[6]
The first version of the engine was designed as a generic game creation engine, but it wasn't powerful enough to make high quality games. Thus there was the need to have a title based around it and developing the engine concurrently with the game, and the original Luminous Studio team was combined with the Final Fantasy XV development team. Tabata has said that there is a good chance the engine is used again in another game, but there is no solid plan at the moment, and, for example, the Final Fantasy VII remake will not use it.[7]
In April 2015, Square Enix announced the engine's support for DirectX12, and revealed a new tech demo running on the engine called Witch Chapter 0 [cry], featuring the character Agni from the Agni's Philosophy tech demo. It renders over 63 million polygons per frame, with the use of very high 8192x8192 resolution textures. The hair is rendered with over 50 shaders, and each strand of hair is rendered with polygons. It portrays human crying at a level of quality never seen before with a real-time 3D character.[8] It runs on a powerful PC equipped with four GTX Titan X graphics cards. This tech demo, which took a year to produce, is considered to have the most advanced real-time graphics to date.
The polygon count of the main character Agni was 11 million polygons, which includes 6 million polygons for her hair, 2 million polygons for the feathers of her dress, and 3 million polygons for her body and accessories.[9]

Final Fantasy titles using Luminous Engine

[

]
References
[
]