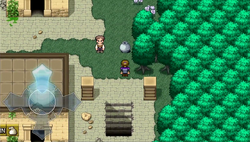 Lufenia (ルフェインの町, Rufein no Machi?) is a location in Final Fantasy Dimensions. It's inhabited by the Lufenian, whose language is different from the rest of the world. Others can understand their language if they have the Rosetta Stone.
Story
[
]
The Warriors of Darkness and The Mask visit Lufenia on their way to break the seal of the Ultimate Magic to a the world a whole a gain. The Lufenians here speak a language that they cannot understand. However, they come across Dr. Unne, who explains that they will need a stone from the Rosetta Tower to understand Lufenian. She gives the warriors the Rosetta Key and warns them that her research team were eaten so that she had to seal the tower. The warriors leave the place and head to Rosetta Tower.
After the warriors bring the
Rosetta Stone
to Dr. Unne, she tells them that now they can speak and understand Lufenian. They come and talk to a young girl, who introduces herself as the Oracle of Lufenia. She gives them their blessing to pass the
Barrier Grove
and reach
Lufenia Ruins
.
After returning from Lufenia Ruins, the warriors are attacked by four Imperial Elites. Upon their defeat, the soldiers transform themselves into Weresoldiers Z while more of them appear and continue to attack the warriors. Thanks to Dusk, the Warriors of Light come to Lufenia in time to save the Warriors of Darkness and the two parties merge.
Treasure
[
]
Shops
[
]
Lower tier shops
[
]
Items

[

]

Weapons

[

]

Armor

[

]
White Magic

[

]

Black Magic

[

]
Upper tier Shops
[
]
The Upper tier Shops are available after the event at Rosetta Tower.
Items

[

]

Weapons

[

]

Armor

[

]
White Magic

[

]

Black Magic

[

]
The inn charges 350 gil per stay.
Gallery
[
]