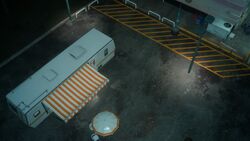 It's your vacation. Why settle for anything less than the absolute best in comfort at the Leville? Enjoy five-star service and make your next getaway unforgettable. Call us to reserve your slice of paradise. Level up your life at the Leville Hotel.

Radio advert for Leville Hotel in Lestallum
Lodgings (宿泊, Shukuhaku?) are inns in Final Fantasy XV. Staying at a caravan (トレーラーハウス, Torērāhausu?) or hotel (宿屋, Yadoya?) has the in-game day elapse until the next morning, but can be slept in at any time of the day. Unlike camping, lodgings cost money, and the party will not cook. As a tradeoff, the party gains EXP at an expedited rate. Staying at a caravan costs 30 gil for x1.2 EXP yield, but the hotel prices vary.
Staying at lodgings can trigger optional scenes.
List of lodgings
[
]
Leide
[
]
Caravan
Hotel
Duscae
[
]
Caravan
Hotel
Cleigne
[
]
Caravan
Hotel
Other
Accordo
[
]
Others
[
]
The player can also rest on the royal vessel to fast-forward time, but this does not tally EXP.
Gallery
[
]