The Final Fantasy series has collaborated with various fashion industry agents to promote both sides' products in a joint effort. The collaborations have had Final Fantasy heroes dressed in designer clothes.
Appearances
[
]
Prada Spring/Summer 2012
[
]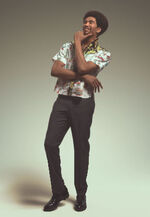 In 2012 Square Enix and characters from Final Fantasy XIII-2 modeled spring/summer collection menswear for Prada at the behest of the magazine Arena Homme+. The "CGI shoot" appeared in an issue of Arena Homme+ magazine on April 12th as part of the 25th anniversary celebration of the Final Fantasy series. The issue included a twelve-page feature, in which Square Enix's Visual Works studio adorned Noel Kreiss, Sazh Katzroy, Snow Villiers, Hope Estheim and Lightning with fashionwear.
The spring issue was said to focus on "a world of direction and escapism". Max Pearmain, editor of Arena Homme+ said the amount of work that went into the project was mind blowing, but that his team is "incredibly pleased with the result." Producer Yoshinori Kitase stated the Final Fantasy series is known for creativity and innovation, and thus working with Prada was "an exciting opportunity."[1]
Louis Vuitton Spring/Summer 2016
[
]
In 2016 Square Enix and Louis Vuitton collaborated to have Lightning model the fashion name's spring/summer collection clothes and handbags. In the accompanying video endorsements created by Visual Works—Square Enix's special effects subsidiary—Lightning performs her iconic maneuvers from the games dressed from head to toe in fashion garments. As the model for the Series 4, Lightning is to appear on various magazine advertisements and star in promotional videos for the campaign. In addition, she became the new face of Louis Vuitton all over social media. "yuza_050" from Final Fantasy XIII-2: Original Soundtrack PLUS played for the first video.
Square Enix stated the collaboration embodies the two companies' shared values of preserving traditions while seeking new and revolutionary ideas to deliver quality products.[2]
Nicolas Ghesquière, Louis Vuitton's Artistic Director of women's collections, has commented that the aesthetic of video games is predominant in the collection, and said Lightning is the perfect avatar for a global, heroic woman and for a world where social networks and communications are woven into everyday life.[2]
Tetsuya Nomura, Lightning's character designer, said the collaboration is not just a promotion of a game, and that it was an honor Lightning had received an offer from a world famous brand, saying it has infused new breath into the character.[2]
Lightning was "interviewed" for Telegraph, a British newspaper, by Olivia Lidbury, the paper's fashion editor.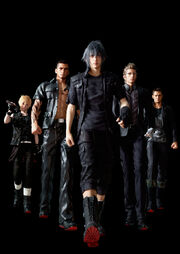 The dress is bespoke, of course, and comes courtesy of one of Altissia's foremost fashion designers.

Ignis commenting on Lunafreya's wedding dress
The main cast's clothes were designed by Hiromu Takahara, creative director of the fashion brand Roen. Lunafreya Nox Fleuret's wedding dress was designed by Vivienne Westwood, albeit not specifically for Final Fantasy XV. Vivienne Westwood is mentioned in-game as Altissia's premier designer.
The contract Square Enix made with Roen when they first started making Final Fantasy Versus XIII contained a number of designs for the game. The designs contracted during that point are still being used for Final Fantasy XV. In fact, it was a "typo" by the fashion label that sparked the rumors of the game's re-branding: on the biography page of Hiromu Takahara, Roen's lead designer, the second under the year 2008 was altered to read: "Square Enix Final Fantasy XV (planned) Clothing Design".[3]
Noctis Lucis Caelum, the main hero, originally appeared in the Final Fantasy Versus XIII E3 2006 trailer in placeholder clothes designed by character designer Tetsuya Nomura. The first time the team members Gladiolus Amicitia, Ignis Scientia and Prompto Argentum were shown they, likewise, wore different clothes. During the 2008 Square Enix DKΣ3713 Private Party it was announced that Square Enix and Roen would be releasing Final Fantasy Versus XIII formal wear, real world items worn by in-game characters and that Roen has worked with Square Enix on the game's character designs.[4] It was said that some of the items would be available commercially.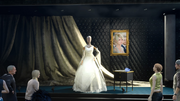 Test gameplay footage screened privately at TGS 2009 unveiled Noctis's finalized design. Noctis's Roen-designed outfit was unveiled to the public at Jump Festa 2010, and was seen again in a Famitsu magazine in June 2010. Takahara also designed the looks for Cor Leonis and Stella Nox Fleuret, whose character was replaced by Lunafreya Nox Fleuret when the game ceased to be Final Fantasy Versus XIII and was re-branded as Final Fantasy XV. The suit worn by Noctis during a deleted Final Fantasy Versus XIII scene, in which he talks to Stella, was the first of Takahara's designs to appear in the game. It still appears in Final Fantasy XV during the ending, although he also has another suit as DLC attire. Lunafreya wears a modified version of the dress Stella was seen wearing in the opening for Final Fantasy Versus XIII.
A physical set of Noctis's clothes was kept in the Square Enix office so the CG team could see them to create the same image in the game. Tetsuya Nomura has commented that this was easier, because previously when he created the characters, the CG team would ask him questions of the clothes' material and other detailed questions that were difficult to define precisely.[5] The playable party's clothes were also exhibited in Yokohama Doll Museum in July 2017.[6]
References
[
]