Lion is a non-player character who appears in Final Fantasy XI: Rise of the Zilart.
A hume, Lion appears in a number of cutscenes for quests and missions. She is the adopted daughter of Gilgamesh, pirate leader of Norg. During Zilart Mission 17 (ZM-17), players are led to believe that she sacrificed herself to save Vana'diel from Eald'narche's wicked scheme.
Players may summon an alter ego, or "cipher", of Lion to assist them in combat under the Trust system.
Profile
[
]
Appearance
[
]
Personality
[
]
Story
[
]
Gameplay
[
]
Missions
[
]
Involved in Missions
San d'Oria Mission 2-3: Journey Abroad
Bastok Mission 2-3: The Emissary
Windurst Mission 2-3: The Three Kingdoms
San d'Oria Mission 4-1: Magicite
Bastok Mission 4-1: Magicite
Windurst Mission 4-1: Magicite
San d'Oria Mission 5-1: The Ruins of Fei'Yin
Bastok Mission 5-1: Darkness Rising
Windurst Mission 5-1: The Final Seal
San d'Oria Mission 5-2: The Shadow Lord
Bastok Mission 5-2: Xarcabard, Land of Truths
Windurst Mission 5-2: The Shadow Awaits
Zilart Mission 1: The New Frontier
Zilart Mission 2: Welcome t'Norg
Zilart Mission 8: Return to Delkfutt's Tower
Zilart Mission 9: Ro'Maeve
Zilart Mission 16: The Celestial Nexus
Battle
[
]
Lion may be fought in the special event battle Heroine's Holdfast.
Cipher: Lion
[
]
Let's put an end to the years of trouble and discord!

Lion's alter ego, when summoned
Lion is available to everyone as a Trust Magic during the 11'th Vana'versary Login Campaigns No. 7 and No. 11 for 500 points as an Alter Ego Cipher. Her job is Thief and uses a dagger and roundhouse kicking attacks. Her specialty weapon skills are Walk the Plank, Pirate Pummel, Powder Keg, and Grapeshot.
Other appearances
[
]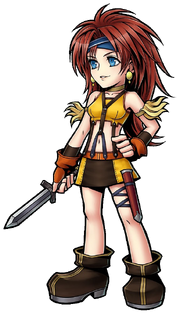 Lion is a playable character recruited in her Character Event "The Caring Adventurer". She is the third Final Fantasy XI character added chronologically after Shantotto and Prishe. The heroes find her as she is 'Seeking a Party' having been separated from her friends in Norg, a nod to how players typically need to search and form parties with allies in her original game. She is featured often in the game when the party interacts with Kam'lanaut and Eald'narche, referencing the story of Rise of the Zilart.
Like her appearance in Final Fantasy XI Lion's class is Thief, using Sneak Attack as one of her abilities, with Hide and Bully also being featured as buffs to her kit. The rest of her abilities are all based on her character-specific Weapon Skills from Final Fantasy XI; Powder Keg, Walk the Plank, and Pirate Pummel. Her Walk the Plank ability can become Walk the Plank (Light) if used following an ally turn, being a reference to the Skillchain mechanic of linking Weapon Skills from her original game. Lion's role in combat is a mixed melee and ranged damage dealer, who's specialty is having increased damage when the enemy is not targeting her. She also is adept at removing enemy buffs with her Walk the Plank reflecting its effect in her game, and the follow-up attack from Pirate Pummel which may be a reference to the Merit Thief trait, Aura Steal.
Lion's weapons of choice are one-handed daggers; she uses the Lust Dagger, Misericorde, Vajra, and Aeneas dagger. Her armors include the Thieves' Relic and Empyrean body armor; the Assassin's Vest and the Raider's Vest. Her High Armor is Lion's Togs, based on her character model's unique outfit.
She is voiced by Yukiyo Fujii.

Lion is a playable character who could initially be recruited during the Challenge Event Women of the World as a First Time Reward for completing the event's Beadeaux, Part 1 stage on Classic difficulty.

Lion appears in the Japanese Final Fantasy trading card game published by Square Enix.
Behind the scenes
[
]
Lion came in fourth place in a Final Fantasy XI NPC Popularity Contest held by Square Enix in June 2013. Current players of the game were given an opportunity to vote for their favorite NPC and share ideas for stories involving these characters.
Gallery
[
]