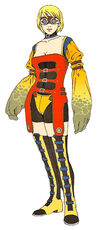 It was fun playing with people other than Al Bhed!

Upon being released from contract.
Linna (リーナ, Rīna?) is an Al Bhed woman who can be recruited as a blitzball player. In the late stages of blitzball, Linna is a high-risk player, with her strong AT, PA, BL, and SH stats, but her very low EN stat. She is a very useful player later on, and has the technique Nap Shot 3 from the onset. At level 99, Linna is tied with Vuroja for the best PA stat in the game.
Like Kyou, Linna does not make a reappearance in Final Fantasy X-2 as a blitzball player, possibly because Nhadala, an NPC in the game who makes an appearance as a free agent, shares the same character design.
Linna is found sitting on the stair at the beginning of the frozen road which leads to Macalania Temple. She moves to the temple's doors after the player talks to Mika in Bevelle after acquiring the airship. If the player misses Linna or ends her contract in the International version, they have to defeat Dark Shiva in order to recruit Linna after visiting the Highbridge after acquiring the airship.
Blitzball stats
[
]
Key Techniques
Drain Tackle 2
Nap Shot
Nap Tackle
Stats
[
]
Salary per game: 900 gil
| LV | 7 | 10 | 15 | 20 | 25 | 30 | 35 | 40 | 45 | 50 | 60 | 70 | 80 | 90 | 99 |
| --- | --- | --- | --- | --- | --- | --- | --- | --- | --- | --- | --- | --- | --- | --- | --- |
| HP | 314 | 441 | 679 | 954 | 1,264 | 1,609 | 1,990 | 2,407 | 2,859 | 3,347 | 4,429 | 5,663 | 7,000 | 8,529 | 9,999 |
| SP | 59 | 59 | 59 | 59 | 59 | 59 | 59 | 59 | 59 | 59 | 59 | 59 | 59 | 59 | 59 |
| EN | 10 | 10 | 12 | 13 | 14 | 16 | 17 | 18 | 19 | 20 | 22 | 24 | 25 | 26 | 27 |
| AT | 8 | 8 | 9 | 10 | 11 | 12 | 14 | 16 | 18 | 21 | 27 | 34 | 42 | 51 | 60 |
| PA | 8 | 9 | 12 | 15 | 18 | 22 | 26 | 30 | 35 | 40 | 50 | 62 | 75 | 89 | 99 |
| BL | 12 | 12 | 13 | 14 | 15 | 16 | 18 | 20 | 22 | 24 | 30 | 36 | 44 | 52 | 61 |
| SH | 10 | 13 | 17 | 21 | 25 | 29 | 33 | 38 | 42 | 47 | 55 | 64 | 74 | 83 | 92 |
| CA | 3 | 3 | 3 | 4 | 4 | 4 | 5 | 6 | 6 | 7 | 9 | 11 | 14 | 18 | 19 |
Techniques
[
]
Starting Techniques: Anti-Venom 2, Golden Arm, Nap Shot 3, Volley Shot
See also
[
]