m

Line 4:
Line 4:
 

'''Limit Break''' is the party ability in ''[[Final Fantasy XIV]]''. When in a party of four or more, players will have access to the limit gauge, which is filled by attacking enemies or healing allies on the verge of death. When fully charged, the stored energy can be used to activate limit breaks. The limit break executed is determined by the role of the party member who initiates it and each type of limit break has 3 levels which depend on the amount of gauge filled when its used.

 

'''Limit Break''' is the party ability in ''[[Final Fantasy XIV]]''. When in a party of four or more, players will have access to the limit gauge, which is filled by attacking enemies or healing allies on the verge of death. When fully charged, the stored energy can be used to activate limit breaks. The limit break executed is determined by the role of the party member who initiates it and each type of limit break has 3 levels which depend on the amount of gauge filled when its used.

 
 
−

This gauge can be increased faster by performing actions determined as "fine play", such as blocking enemy attacks. Limit breaks will have different effects depending on the job of the player who uses them.

+

This gauge can be increased faster by performing actions determined as "fine play", such as enemy . Limit breaks have different effects depending on the job of the player who uses them.

 
 
−

On an early gameplay presentation, a Black Mage is shown triggering the limit break, which summoned a meteor-like spell to deal heavy damage to the target.

+

On an early gameplay presentation, a Black Mage is shown triggering the limit break, which summoned a meteor-like spell to deal heavy damage to the target.

 
 
 

==Types of Limit Break==

 

==Types of Limit Break==
---
Revision as of 17:30, 6 November 2013

Cid Pollendina
:
Oh, shut up and help me remodel the Limit Break (Final Fantasy XIV) page!
Please expand this article into a full one. The following tasks need to be completed:This request can be discussed on the associated discussion page. Remove this notice upon completion.
Limit Break is the party ability in Final Fantasy XIV. When in a party of four or more, players will have access to the limit gauge, which is filled by attacking enemies or healing allies on the verge of death. When fully charged, the stored energy can be used to activate limit breaks. The limit break executed is determined by the role of the party member who initiates it and each type of limit break has 3 levels which depend on the amount of gauge filled when its used.
This gauge can be increased faster by performing actions determined as "fine play", such as stunning an enemy casting a skill or healing a party member who's near death. Limit breaks have different effects depending on the job of the player who uses them.
On an early gameplay presentation, a Black Mage is shown triggering the limit break, which summoned a meteor-like spell to deal heavy damage to the target.
Types of Limit Break
Tank Limit Breaks
Unleashes Shieldwall, Mighty Guard or Last Bastion to raise an indomitable wall through sheer willpower, protecting all allies drastically raising the defence of party members for a fixed duration.

Damage Dealer Limit Breaks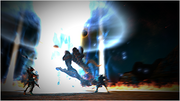 Unleashes Braver, Blade Dance or Final Heaven by concentrating the user's fighting spirit into a single lethal blow against the enemy for a powerful single target attack. Template:Gallery

Healer Limit Breaks
Unleashes Healing Wind, Breath of the Earth or Pulse of Life to bathe all allies in holy light, healing their wounds restoring the HP of party members.

Caster Limit Breaks
Unleashes Skyshard, Starstorm or Meteor to summon a powerful magic from the heavens to decimate enemies on the field for a powerful area of effect attack. Template:Gallery
Community content is available under
CC-BY-SA
unless otherwise noted.