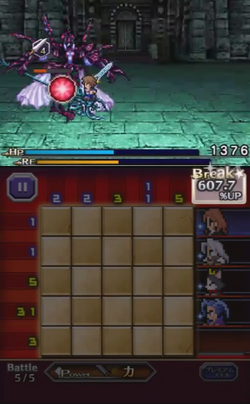 Lifesiphon (エンドアスピル, Endo Asupiru?, lit. End Aspir) is a recurring ability in the series. It is associated with Command Synergy Battle where it is an auto-ability which recovers an ATB gauge segment when defeating an enemy.
Appearances
[
]
Lifesiphon is a Commando auto-ability which instantly recovers one ATB gauge when defeating a foe. It can be learned by Lightning (Crystarium stage 1), Sazh (stage 8), Hope (stage 7), and Fang (stage 6).
Lifesiphon is a Commando passive ability that allows the user to recharge one ATB gauge segment upon slaying target. It can be learned by Noel (role level 28), Cactuaroni (level 7), Chocobo (level 13), Dragoon (level 10), Frag Leech (level 18), Golden Chocobo (level 9), Gorgonopsid (level 41), Lucidon (level 99), Meonekton (level 18), Munchkin (level 9), Red Chocobo (level 33, Scutari (level 4), Seeping Brie (level 34), Thermadon (level 3), Twilight Odin (level 41), Vespid Soldier (level 31), Vouivre (level 8), and Chunerpeton (initially). It can be infused into other monsters.
Lifesiphon is a Rank 4 combat ability, created by using Greater Power Orb x5, Greater Ice Orb x3, and Greater Wind Orb x3. It has a 1.8 damage multiplier, fills the user's Soul Break gauge by 60% of a single bar, and cannot miss, even with Blind applied.
Gallery
[
]