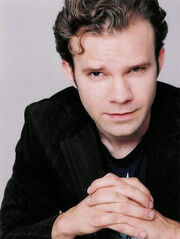 Liam O'Brien (born May 28, 1976) is an American voice actor, writer, and voice director. He is the voice for Caius from Final Fantasy XIII-2 and Lightning Returns: Final Fantasy XIII, as well as Kain Highwind from Dissidia 012 Final Fantasy and the 3D remake of Final Fantasy IV.
Roles
[
]
Background
[
]
I've always dreamed of landing a solid role in the Final Fantasy universe. And of course, I already had some time there, in Final Fantasy VII: Advent Children and the remake of Final Fantasy IV. But getting to be in the latest installment of the series is a real badge of honor for me.

Liam O'Brien on receiving the role of Caius Ballad

[1]
O'Brien has stated that he enjoyed playing Caius and it is his favourite role he has played in the series. He liked that the character required a very resolute and consistent performance. However, he has also described the role as "labyrinthine" as he received frequent script changes and was unsure when particular events happened in the story.
He described his role as Red XIII as "bittersweet" as while the character only has one line in Advent Children, it was still exciting to be a part of the Final Fantasy VII universe.[2]
Outside of the series, O'Brien has provided voices for over 100 animated and video game characters. He is known for voicing Gaara from Naruto, Jushiro Ukitake from Bleach, Red Skull in recent entries in Marvel animation, Illidan Stormrage from the Warcraft series, Akihiko Sanada from Shin Megami Tensei: Persona 3, and Gillandor Yul Svent in Tales of Xillia and Tales of Xillia 2. O'Brien is also a voice director and was responsible for the direction of games including Resident Evil 5 and The Witness.
External links
[
]
References
[
]