Template:FFII character Leila is one of Firion's allies in Final Fantasy II. She is first encountered as a pirate captain, hired by Firion to transport the heroes across the seas to the ruined kingdom of Deist.
Story
When the ship is out to sea, Leila betrays Firion and his friends and has her crew attack Firion. Once the pirates are defeated, the party spares Leila's life. She joins the party and gives the heroes access to her pirate ship. She accompanies them to Deist as they work to save the last Wyvern egg and then back to Fynn. When it is revealed Princess Hilda has been replaced with a Lamia Queen, Leila offers to lead the Wild Rose Rebellion as Gordon joins the party for the rescue mission.
Once Hilda is recovered, she participates in the Liberation of Fynn on the front lines with Firion's party. Leila goes on to help the group approach the Tower of Mysidia, but when they are attacked by the Leviathan she is separated from her ship and the party. How she survived and returned to Fynn Castle is never explained, but she remains there offering quips and information if the party visits her. After the adventure is over, she offers Firion a place among her pirates which does not sit well with Maria. Template:Endspoilers
In Battle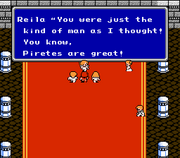 Leila has high Agility and mediocre Strength, Intelligence and Stamina, allowing her to be trained as either a fighter or mage. She joins the party with Thunder IV, useful against the aquatic enemies encountered while sailing, and her initial equipment are a Dagger and a Longsword, and for armor a Gold Hairpin and a Silver Cuirass. While her high Agility means she will often move first, and her starting weapon proficiencies are high, she has low Stamina so her HP will grow slowly. Leila's ultimate weapon in the Arcane Labyrinth is the Dancing Dagger.
Initial Abilities
Stats
| Stats | Level |
| --- | --- |
| HP | 248 |
| MP | 35 |
| Strength | 18 |
| Spirit | 10 |
| Intelligence | 16 |
| Stamina | 18 |
| Agility | 36 |
| Magic | 10 |
Spells
Proficiencies
| Category | Level |
| --- | --- |
| Unarmed | 1 |
| Knives | 5 |
| Swords | 5 |
| Staffs | 1 |
| Axes | 1 |
| Spears | 1 |
| Bows | 4 |
| Shields | 1 |
Etymology
"Leila" is a popular given name in the Middle East, originating from Semitic languages in ancient Arabia. The name comes from the Arabic word "Laylah", which means night. "Leila" has other meanings as well, such as "Born at Night", "Dark-haired Beauty" or "Dark Beauty".
Trivia
A theory claims that Leila is the Emperor's daughter. In the town of Mysidia, there is an empty house filled with books. You can examine this bookshelf, and your keyword bank will pop up, allowing you to search for books to read based on important terms. When "Palamecia" is selected, you will discover that, at one point, the Emperor of Palamecia was boasting about how impenetrable his fortress was. He was so confident, that he held a contest. Whoever could break into his palace first would be permitted to marry his daughter. We can assume that Paul the thief is the one who succeed this trial (he claims to only steal from the Empire). This is why Leila is now a pirate. Plus, we can see that the tips of the Emperor's hair are purple. The same color of Leila's hair.
Community content is available under
CC-BY-SA
unless otherwise noted.