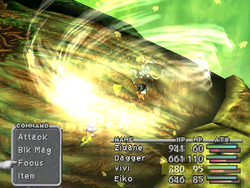 Attack by sprinkling leaves about.

Final Fantasy Tactics description
Leaf Swirl (木の葉乱舞, Konoha Ranbu?), also known as Leaf Dance, Leaf Rain, Autumn Leaves, or Rage, is a recurring ability in the series. It is a magical attack that hits all party members, sometimes doing Wind-elemental damage.
Appearances
Edit
Leaf Dance is an ability that can be used by the Geomancer's Gaia ability when fighting in forests. It does wind-elemental damage to all enemies.
Leaf Swirl (also called Rage) is an ability used by the Storm Dragon, and Mog can use Leaf Swirl during his Forest Nocturne Dance. Leaf Swirl hits all members of the opposing party for non-elemental magic damage, has a spell power of 50, and ignores split damage and is unblockable.
Autumn Leaves deals physical damage and may inflict Darkness on one or all opponent. It is used by Rilfsak as a first attack or a counterattack against magic.
Leaf Swirl is an ability exclusive to Soulcage. It does non-elemental physical damage to the entire party.
Leaf Rain (Leaf Dance on the PlayStation) is an attack used by the Treant and does non-elemental magick damage.
Etymology
Edit
It is also called "Rage." [view · edit · purge]Rage (often called fury or frenzy) is a feeling of intense, violent, or growing anger. It is associated with the fight-or-flight response and often activated in response to an external cue, such as an event that impacts negatively on the person.
Community content is available under
CC-BY-SA
unless otherwise noted.